Family Trip To The Big Apple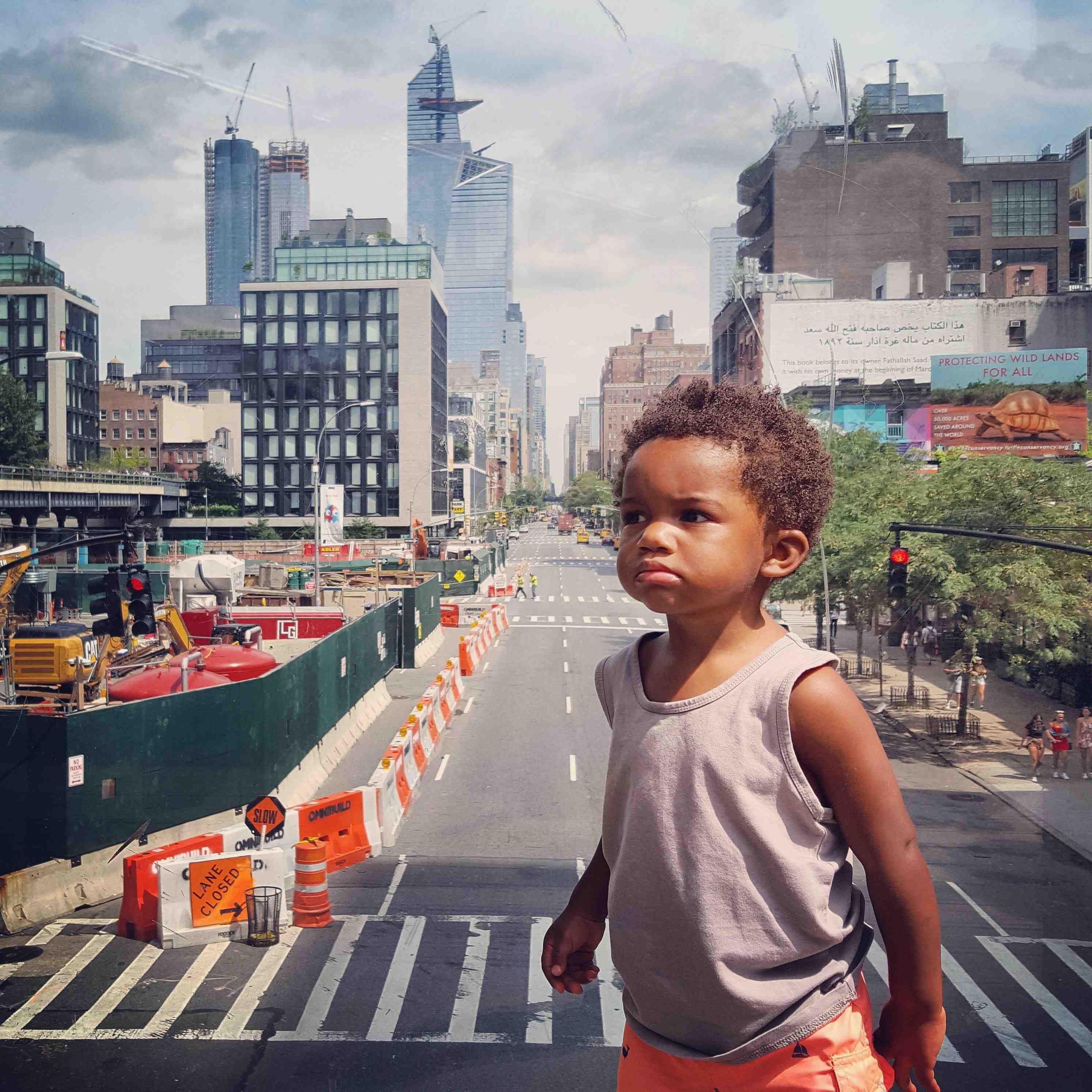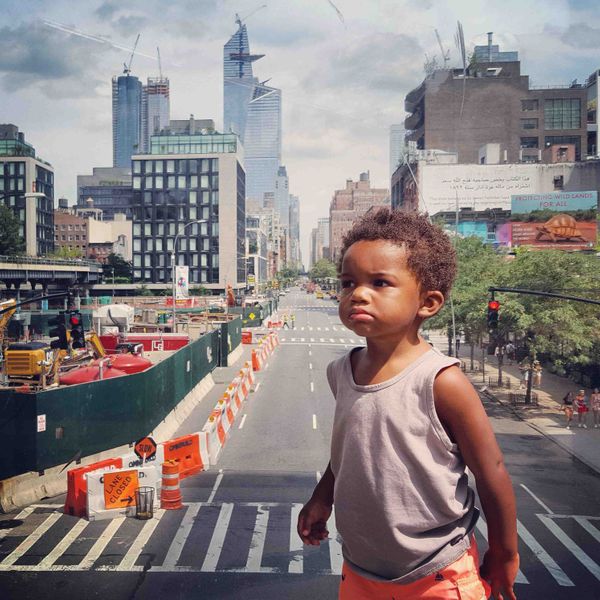 So we decided that taking a 1-year-old on a family vacation to New York City would be a marvelous idea. Being late in the year, we had to decide what to do with my remaining days off and we settled on New York City because I had never been and I was tired of always seeing The City in movies and on TV without having experienced the hustle and bustle myself.
We bought tickets and really did no further planning. In the end, that turned out to be the absolute best course of action as we allowed ourselves to spend our 5 days in town essentially as locals instead of jamming our schedule with normal touristy activities.
Getting There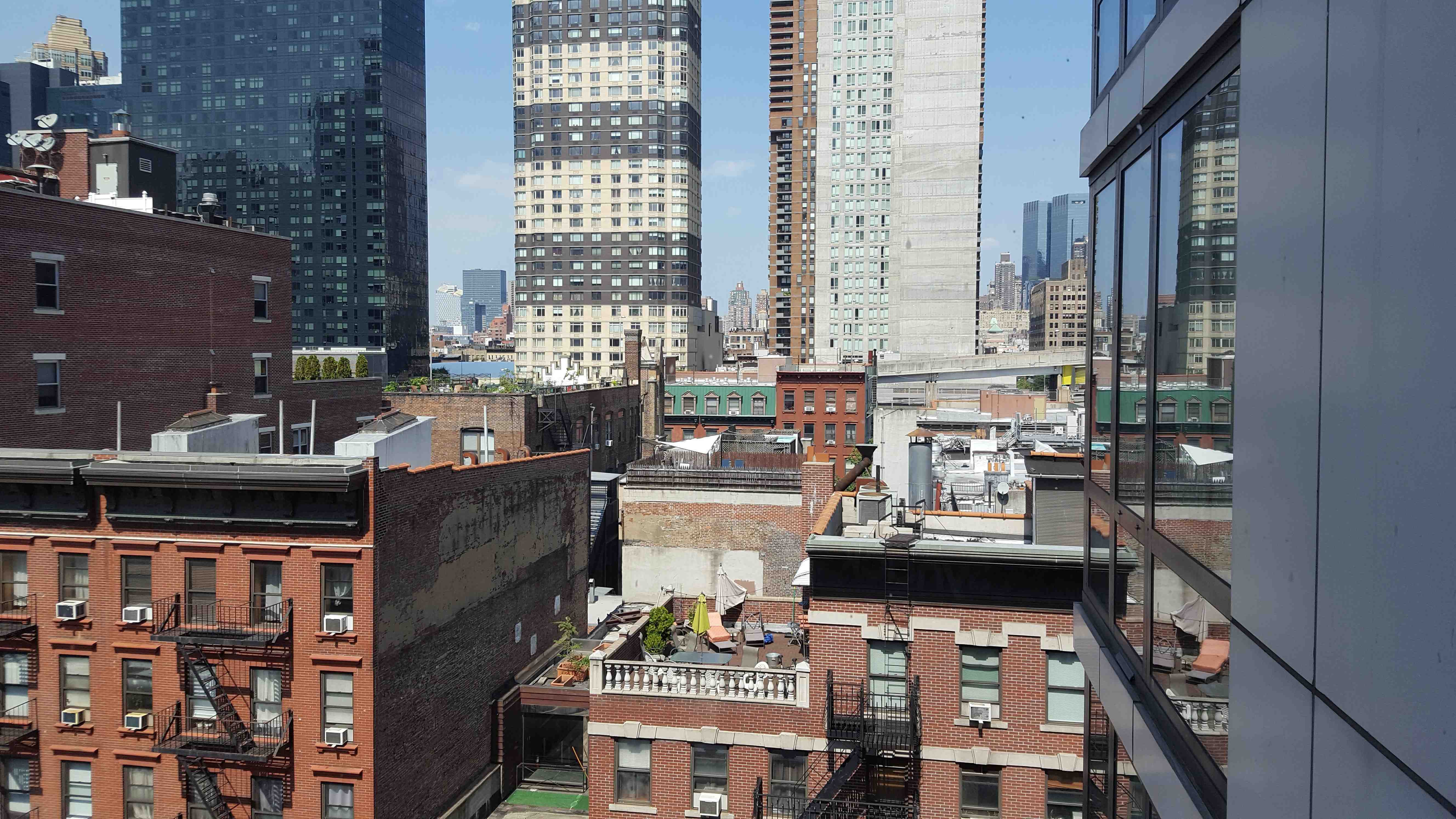 Being the cheapskate that I am, we booked the cheapest tickets we could find, which turned out to be a direct flight on United into Newark.  Awesome...buuut those tickets required extra money to have reserved seats so instead of a nice calm flight with two of us to handle the little guy, we ended up sitting in opposite middle seats in the same row. This almost made things worse because the Little Man could see the other person, so he was more likely to want to move around. We weathered that debacle just fine (despite fiery flames in the form of a smoldering stare directed my way).
Then, following the directions from our AirBnB host, we easily found the train from Newark to NYC Penn Station, went around the block to get our key from a KeyCafe (nifty automated key dispenser), and then walked another couple blocks to our apartment.
The apartment was perfect for what we needed. The place was close to Times Square and two train stations on two different lines, so getting around town was a breeze.  The host also kept the place clean and had everything ready that we needed including laundry and a dishwasher to wash the baby's bottles in.
The Touristy Stuff
We did do a handful of tourist activities because you have to right?  Some were good, others meh.  In no particular order...
Top of the Rock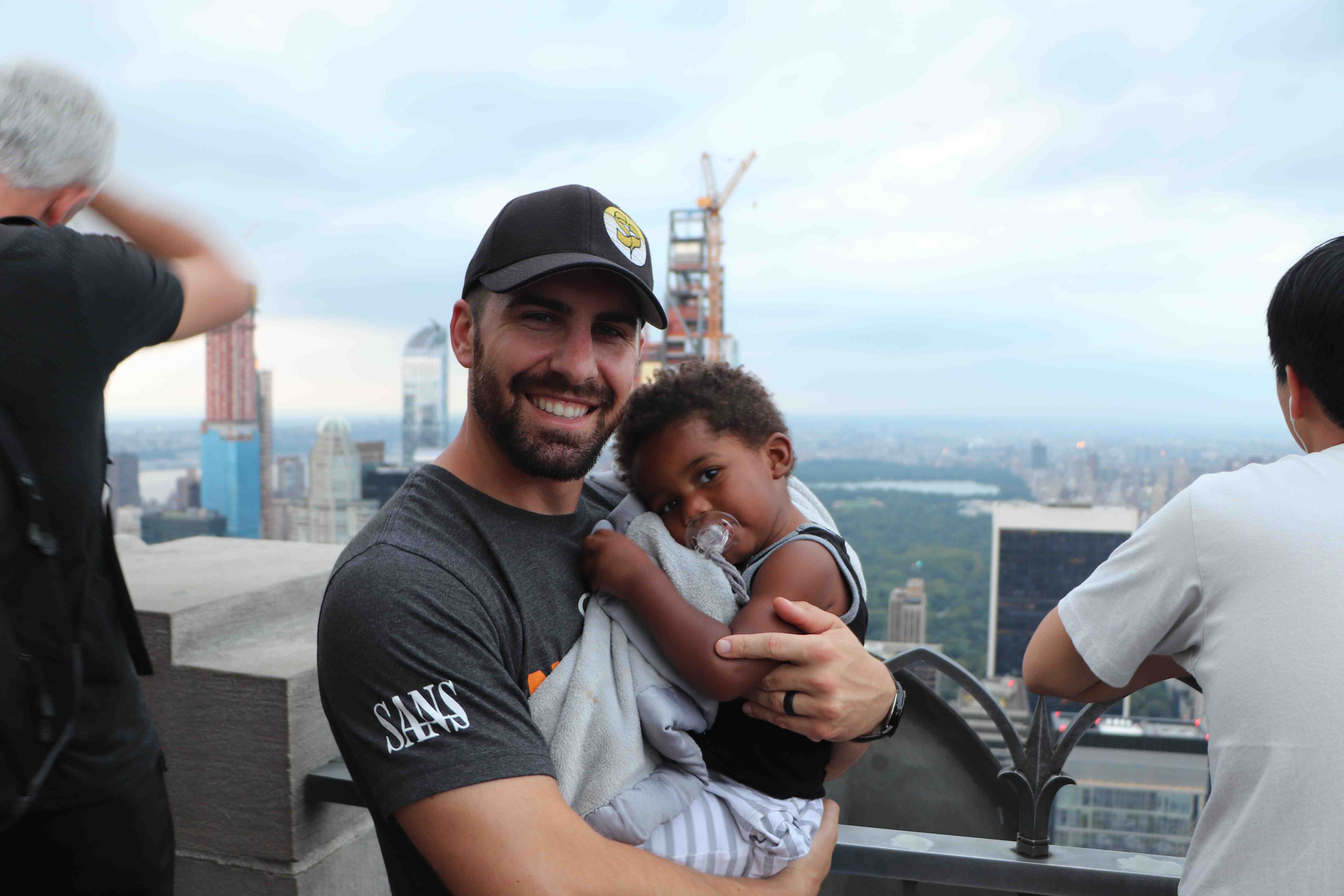 Meh. We went on a kind of cloudy day right at dusk (wanted to get sunset pictures) so that might have affected our enjoyment. The views were good, but I think there are better views to be had. On the up side, we pre-purchased tickets so getting in was easy and quick.
Statue of Liberty and Ellis Island
First, the island closed due to a propane explosion just before we were to board the boat so first I had to stand in a line for an hour to get new tickets for the next day (thanks to our 'flexible' schedule).  Luckily, this was also the will call line, so kind of killed two birds with one stone.  The drawback was that we HAD tickets to enter the pedestal but in order to go the next day (our only remaining day) we had to downgrade to just the island.
Maybe going into the pedestal would have made the expirience better, but overall, going to Liberty Island was really only good for pictures. The views of Lower Manhattan from there are also outstanding.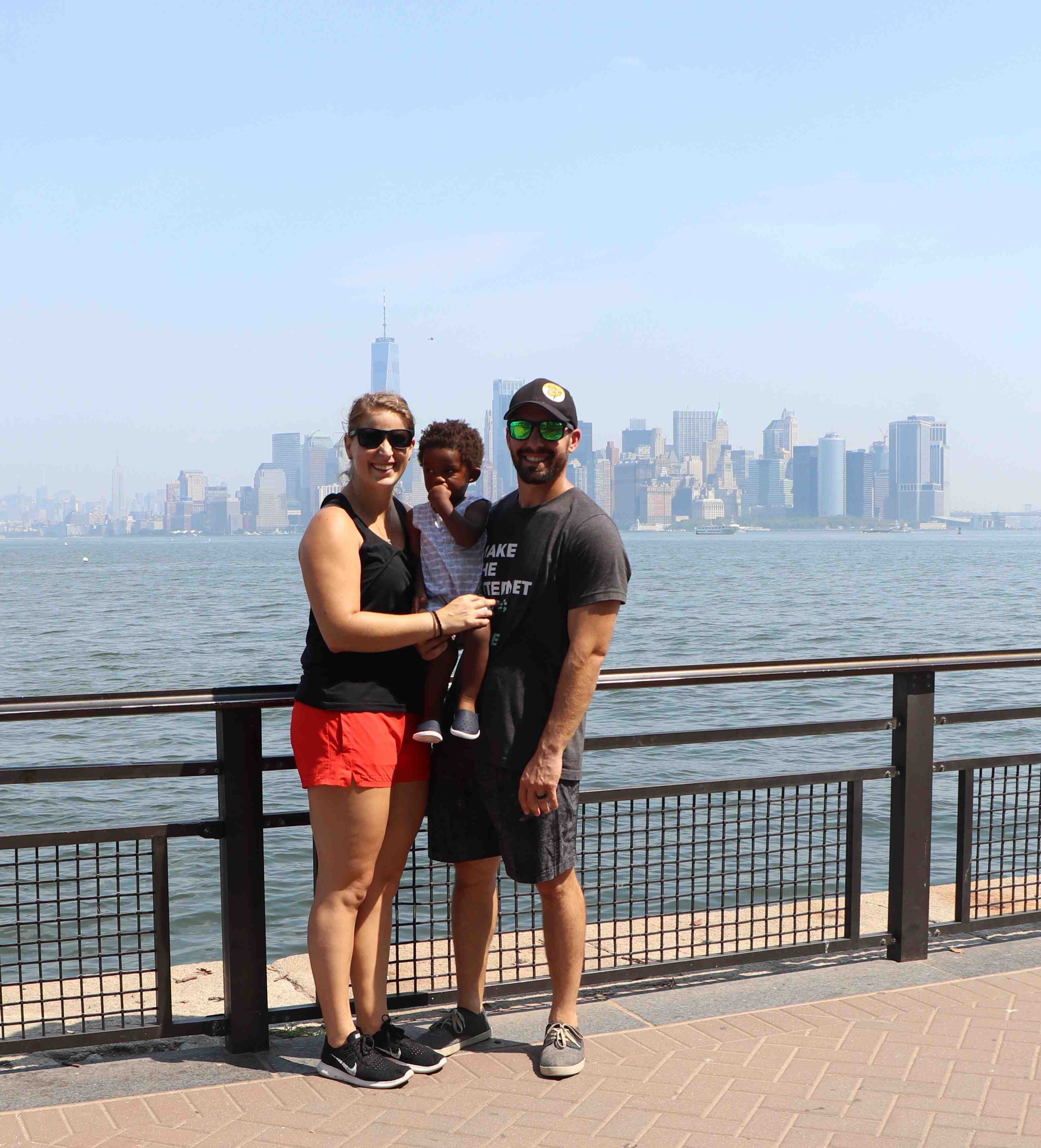 Now Ellis Island, that was an interesting expirience.  While very cool to see where many of our ancestors entered this country, in the current political climate, seeing the difference in the narrative about imigration compared to today, was difficult.  I learned that over 12 Million immigrants(specifically third class and stearge passegners as higher classes were screened aboard the ships) flowed through Ellis island and a screening process that generally lasted only a few hours.  I also learned that only 2% of immigrants were ever rejected (a total of about 240K).
The more interesting part of Ellis Island is the part that is NOT there; the way that many of our black friends' and families' ancestors came to this country and the way that America was "Peopled" (an exhibit on the island was titled "The Peopling of America") despite a Native population already living here.  In a few of the exhibits, these topics were touched on (in an empowering way), but overall, the experience was a highlight of the privilege we have to go and see where our ancestors entered this country.
9/11 Memorial
Extremely moving, must see; there are not really words to describe the range of emotions that the 9/11 Memorial Museum brings to the surface.  As I told my wife, 9/11 was the first major tragedy that we were probably old enough to comprehend and therefore totally shaped our formative years and adulthood. Being 17 years ago, seeing the old news clips, videos, and remnants made the whole event seem so real again.
As for taking a 1-year-old? Maybe try to avoid that, or go during a nap.  A giggling little kid does not do much for the experience.
This is a must see and just going to see the Memorial is not enough, go see the museum.
Times Square
Cool to see, go at night, make it quick, leave.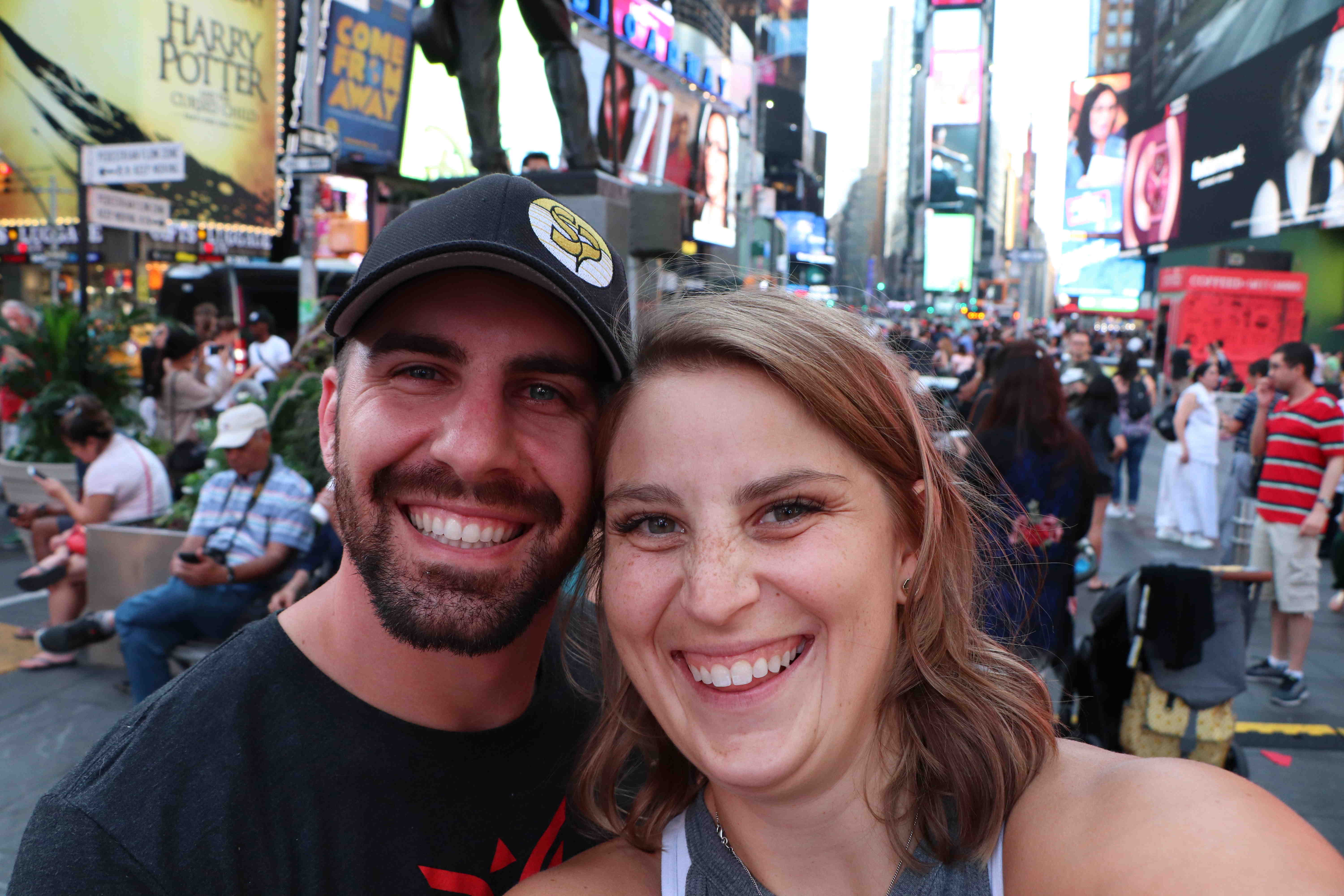 Central Park
Woah, the Park was engulfing.  A few steps into the Park and you already forget the whole city around you. The park has a good number of playgrounds and even a splash pad. The lawns are wide open and great for taking a seat and just letting our Little Dude blow off some energy.
Did I mention that the place is HUGE (or yuuuugggge, whichever you prefer)? I bet you would need years as a NYC resident to fully explore the entire place. I mean the Park has a section called the North Woods, like if you spent enough time there, you would eventually find Aragog and Firenze.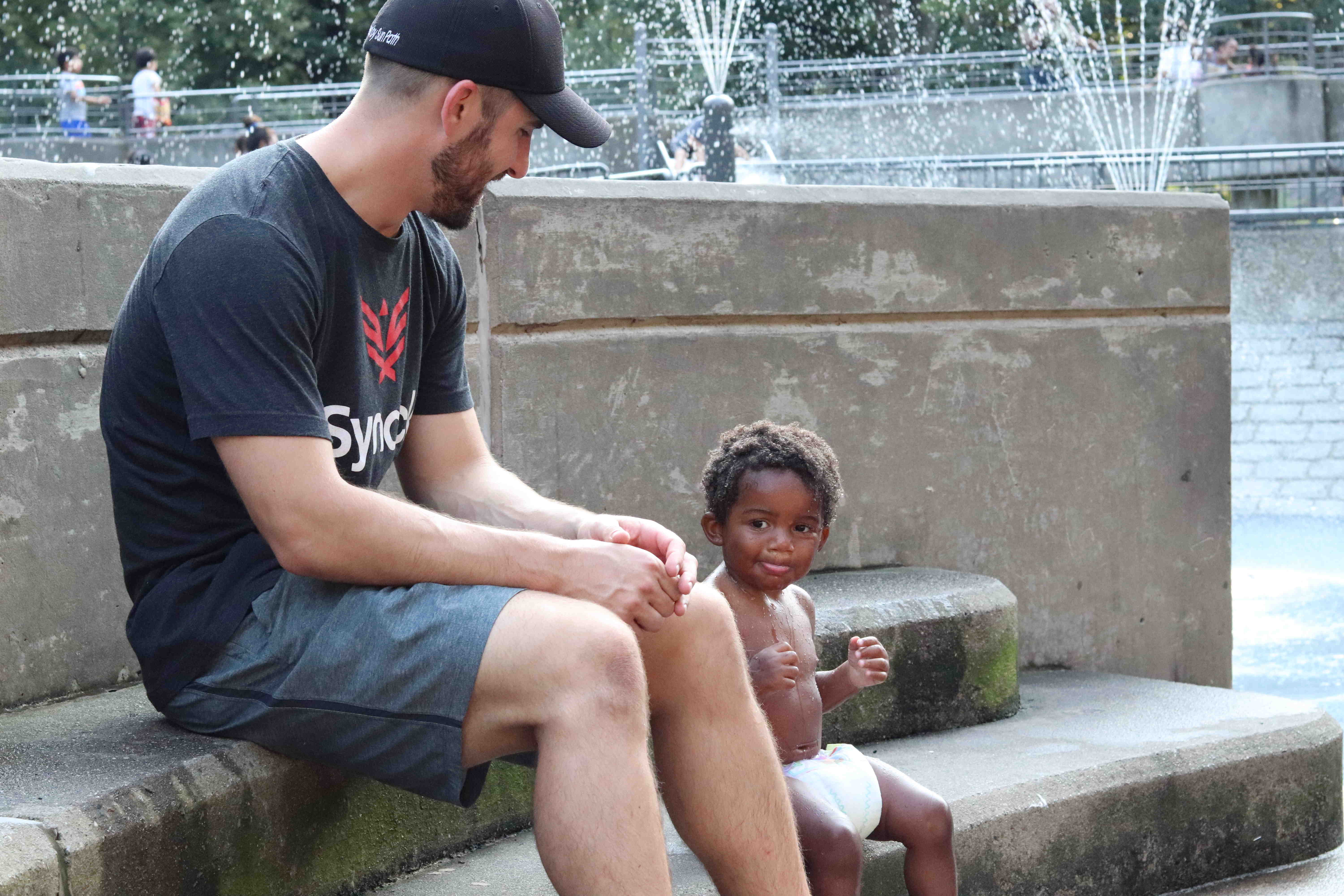 Coney Island
If you are going to go, go at night.  The lights are spectacular.  A few reviews online said the area might not be safe at night but we went at 8:30 in the evening and left by 10:30 and the area was still bustling.  We did not even have to go far from the subway station.
Aside from seeing the lights, we did not do much else.  With an older child, we might have bought passes to the amusement park and done some rides. You can get a Nathan's Hotdog from the stand that does the annual contest, so that was pretty neat.
We were also lucky enough to see some fireworks after the nearby baseball game ended.
The downside is that the subway ride here is pretty long, so be ready for that, or figure out which train is the express train.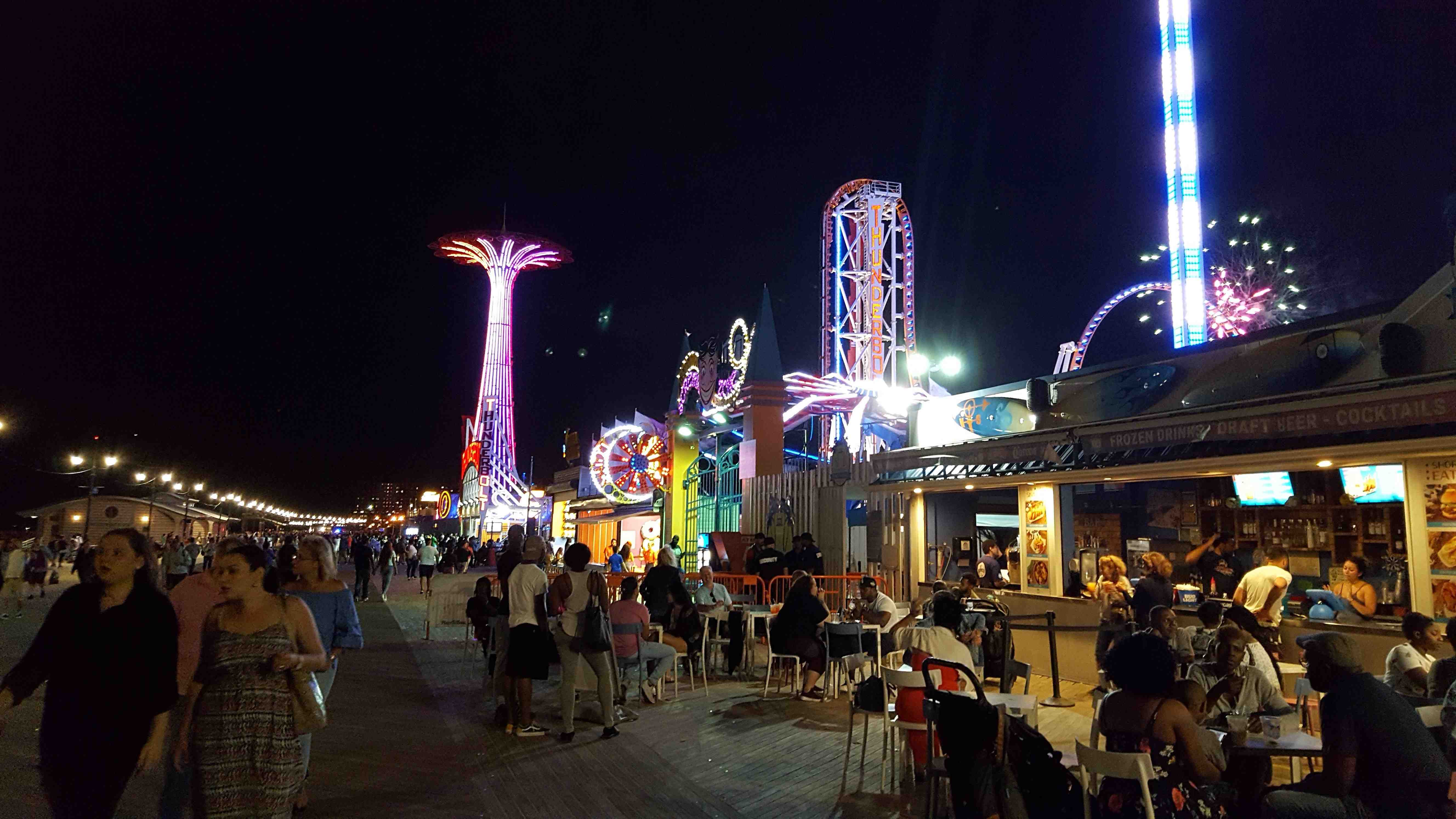 Local Type Stuff
The touristy stuff was fun, but this stuff is what really made the trip.
Farmers Market and Grand Bazaar
We had planned to go to the Grand Bazaar near the Museum of Natural History and then also stumbled upon a local farmer's market (the wifey has a homing beacon for those things). This was a good chance to try a bunch of local NYC fare and interact with local folks.
The Grand Bazaar was similar, but less about food and more about merchandise.  Everyone was really nice and the Wife got a cool t-shirt and a Christmas ornament (the that Little Guy later broke).
The Highline
A super trendy converted elevated rail line (still visible in spots). Converted to a walking path with shops, hotels, and food along the way. We also attended a Family Festival that has activities for kids and gave us some time to relax while the kiddo got to play his heart out.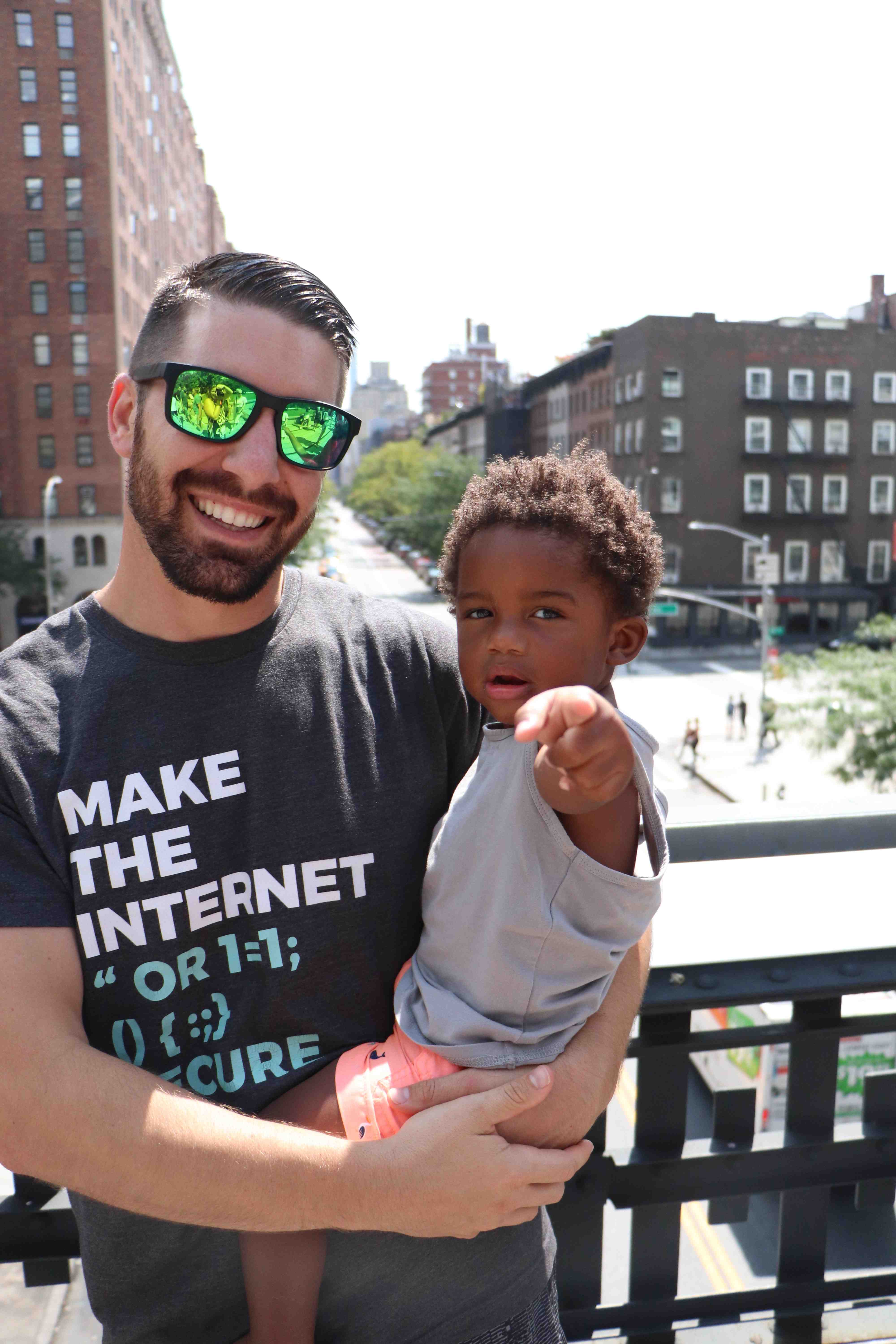 Rockaway Beach
Another super long subway ride that was totally worth it. The beach was as nice as any I have been too.  Litte dude made friends with a local boy (who had the same name) and they played for about 2 hours in the sand and surf. The water was perfect for a hot August day.  Who knew you could be in a beach paradise just a subway ride away from the city.  $6 well spent.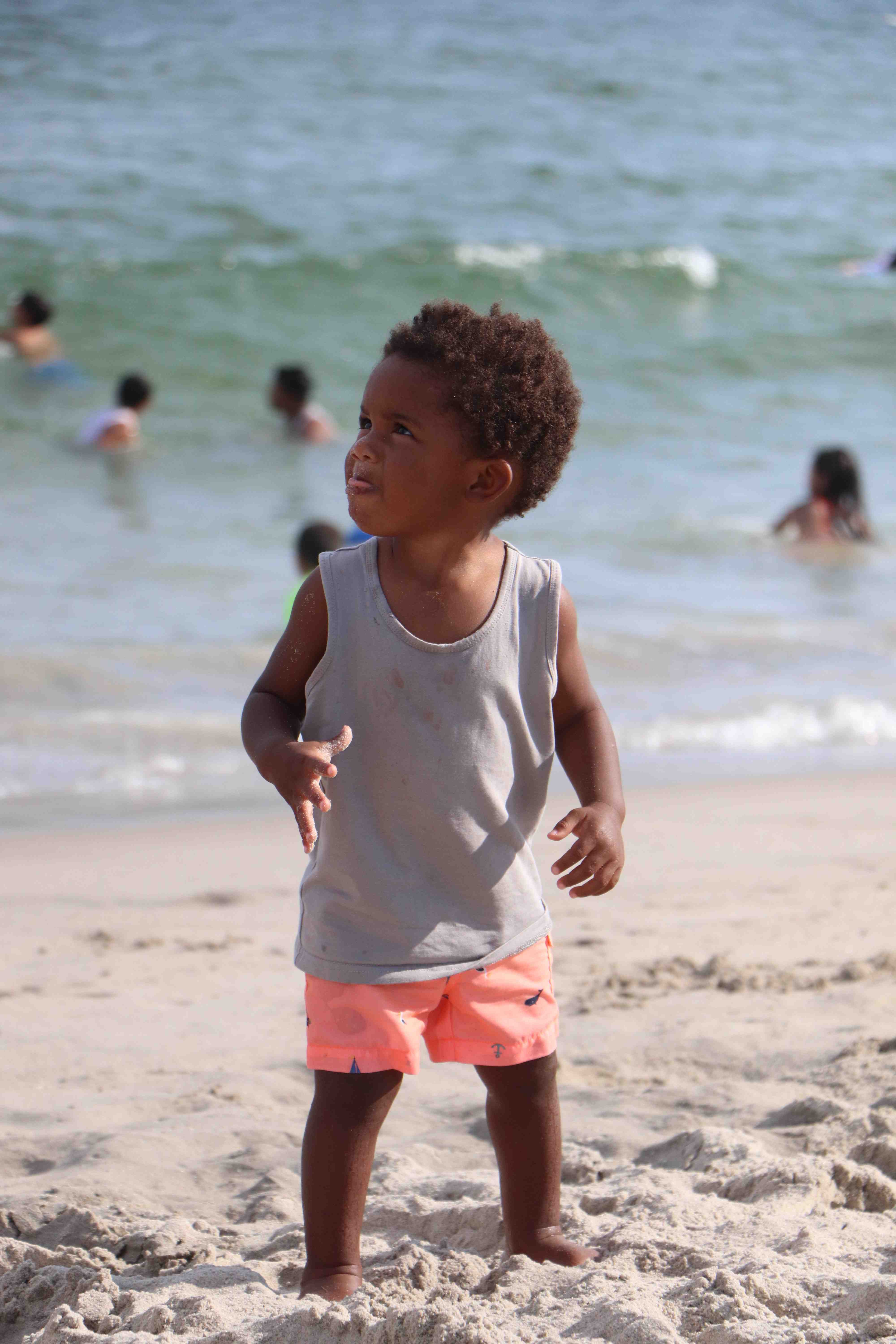 Children's Museum of Manhattan
Standard children's museum but a full afternoon of not having to worry about our son getting mowed over by a car or bike. The goal was to keep him awake and get him as tired as possible to give us a night that we could go to a decent restaraunt and boy did the museum deliver. Four floors of fun that we hit each at least 2 times. Afterwards, he slept for about 2.5 hours and led to us dining at our favorite spot for the entire trip.
Local Parks and Splash Pads
We were never far from a playground, many (maybe most) of which had splash pads.  These were perfect as the temps during our trip were in the 90s.  Not super hot by home standards but definitely oppresive in the New England humidity.
Seeing these types of things in the community definitely made us feel welcome and at home in New York.
Food
Obviously food is exspensive in the city but a few places stood out to us both for value and for the amazing food.
First  off, we had a hard time finding a decent breakfast around town.  Coffee shops abound, but regular breakfast beyond a typical bakery are hard to find.  On our last day we discovered the best breakfast we had all trip from Jonny's Panini and Coffee shop, literally one street away from where we were staying.  Jonny, the owner, was the one making the food and turns out has been on multiple TV shows! He was super friendly, made the best espresso we had ever had (I think it was a Nutella Mochacino).
Another popular place that we tried was Bluestone Lane. Aside from being forgotton out on their patio for 20 or 30 minutes, the food was great.  The food is definitely of the more trendy variety (my bowl had quinoa, kale, goat cheese, etc.) and was outstanding. The Mrs. had a really good banana bread pastry thing with fruit on top.
By far the best place we ate the entire trip was Jacob's Pickles, a comfort food spot near the Children's Museum.  The first thing was that the atmosphere was really neat.  I definitely felt like I was in an old untouched part of NYC.  The food was some of the best I have ever had.  We started with a spinach  and artichoke mac & cheese that was (as you would expect) the perfect combination of a spinach and artichoke dip and super gooey macaroni and cheese. Then we decided to share a main course and when our meatloaf with maple butter arrived, it was enormous.  We thought sharing would put us on the light side...not a chance. After the appetizer, we (together) were barely able to put a dent in this thing despite the fact that this was some of the best food we have ever had.
Because the little dude was still asleep, we decided to make this our big dinner and also ordered a dessert; the half-baked cookie.  Amazing, that's it, not much more will do that justice other than we were unable to finish this as well. So we boxed everything up and got the bill...this was literally only a couple dollars more than any other meal was had eaten (no apps or desserts) AND we had leftovers! This place was fun, food was great, and the value was beyond compare. If you get a chance to go, do it!
Then we woddled out and walked like 2 miles (holding our bellies the whole time) to go do the Top of the Rock.
The Way Back
Getting back was a bit of a whirlwind. We (I) misread the subway time table thinking that that first train would arrive shortly after the nearest station opened (wrong). So after finally getting to the end of the line, getting on a bus to the airport, and getting to the ticket counter, we were just under 1 hour until take-off.  Then at security I noticed we did not have the correct lap child ticket. I mentioned this to TSA who was OK with it but this caused major issues at the gate.  Apparently they reprinted the Wifey's ticket instead of adding the lap child. This would not have been a big deal except for two other families at the gate were causing a big scene about having to pay for bags (Frontier charges for carry-ons).  
The poor gate lady was handling the situation as best should could but the constant nagging from the angry passengers just made the whole process take even longer.  Finally we got the tickets sorted out and got on the plane. Luckily this time, we had seats together, so once we were finally on the plane, things went very smoothly and the little man slept the entire flight.