Mount Evans - 14,264'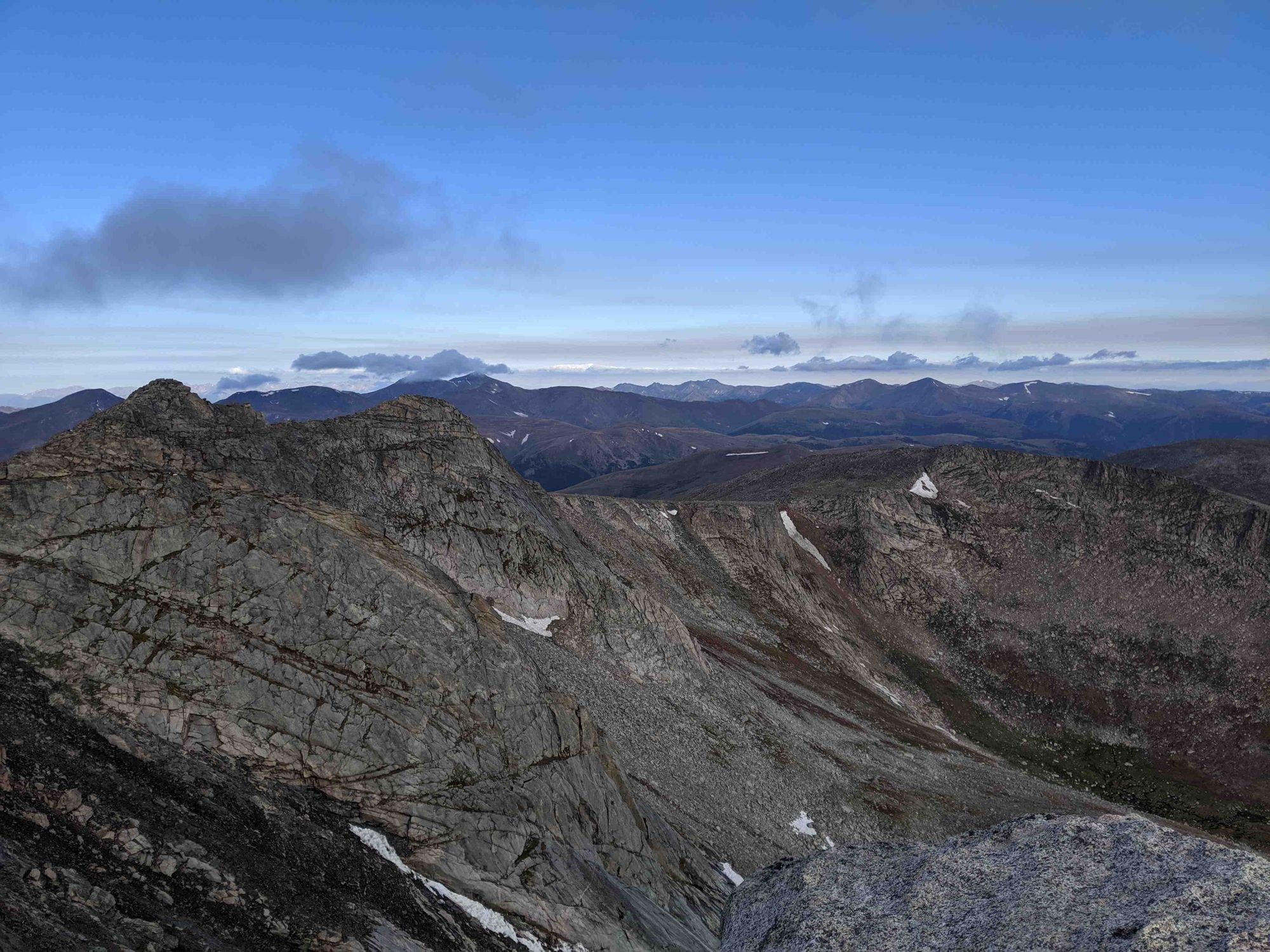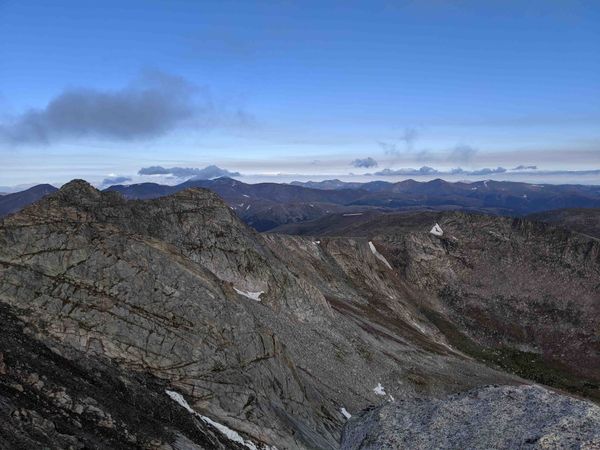 Mount Evans is Colorado's 14th highest peak and also one of the most accessible as it has a road to the top. I tried to summit this mountain a few weeks ago with my 2-year-old on my back. We ended up turning back because he was ready to go home (read: it was really hard) so I had to come back alone to claim this one.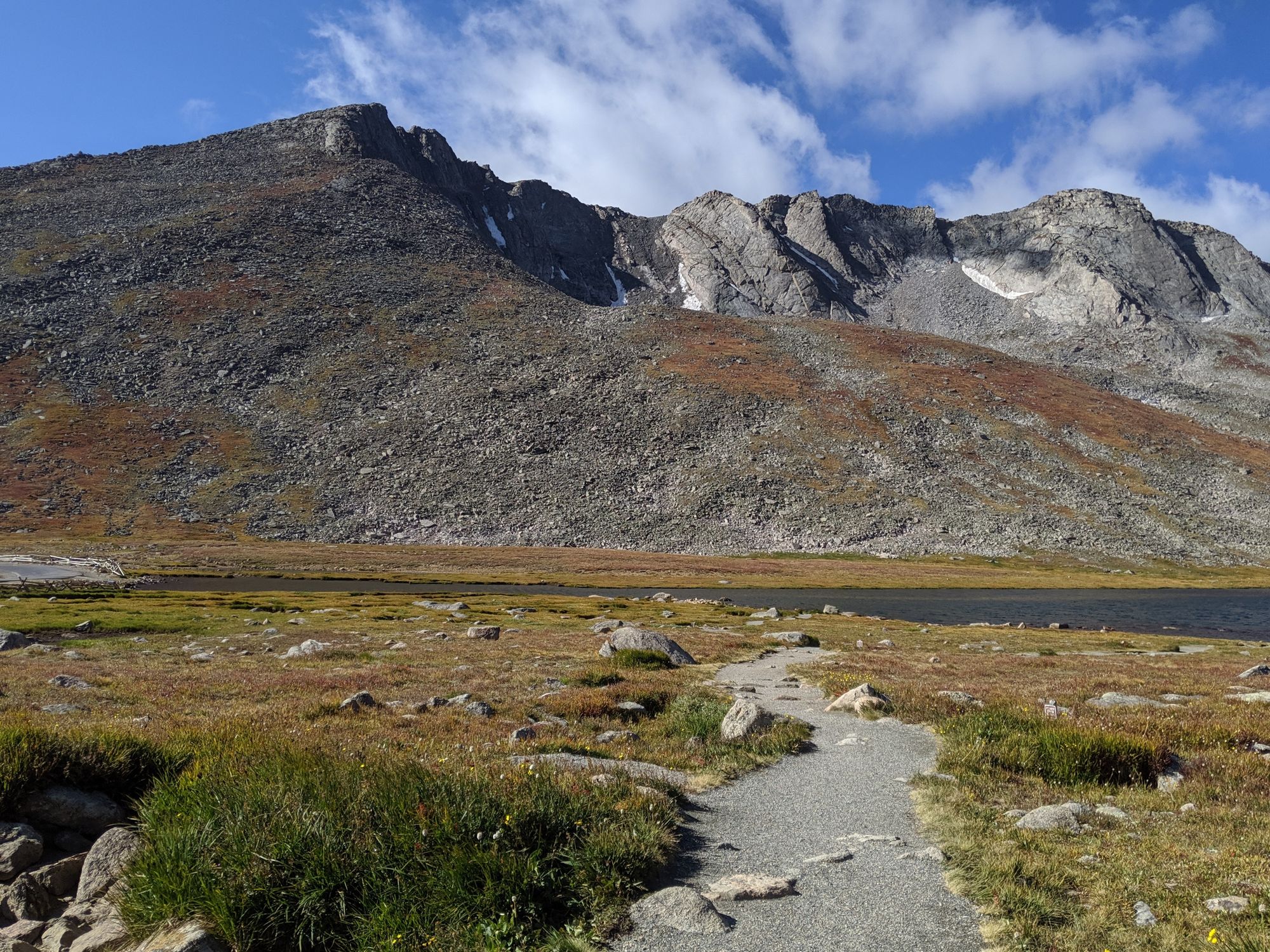 As always, my 14ers climbs start with a fair amount of research on 14ers.com. This mountain is one of the easier ones with a round-trip length of only 5.5 miles from Summit Lake. Doing this the weekend after Labor Day meant that the road to the top was closed at Summit Lake so I would not have to deal with all the cars at the top.
The day I planned to do this I had lofty goals of maybe doing Grays/Torreys or even Longs peaks, but with iffy weather forecast, I opted for the shortest and easiest of my options. As it turned out, the weather was outstanding (maybe a bit windy).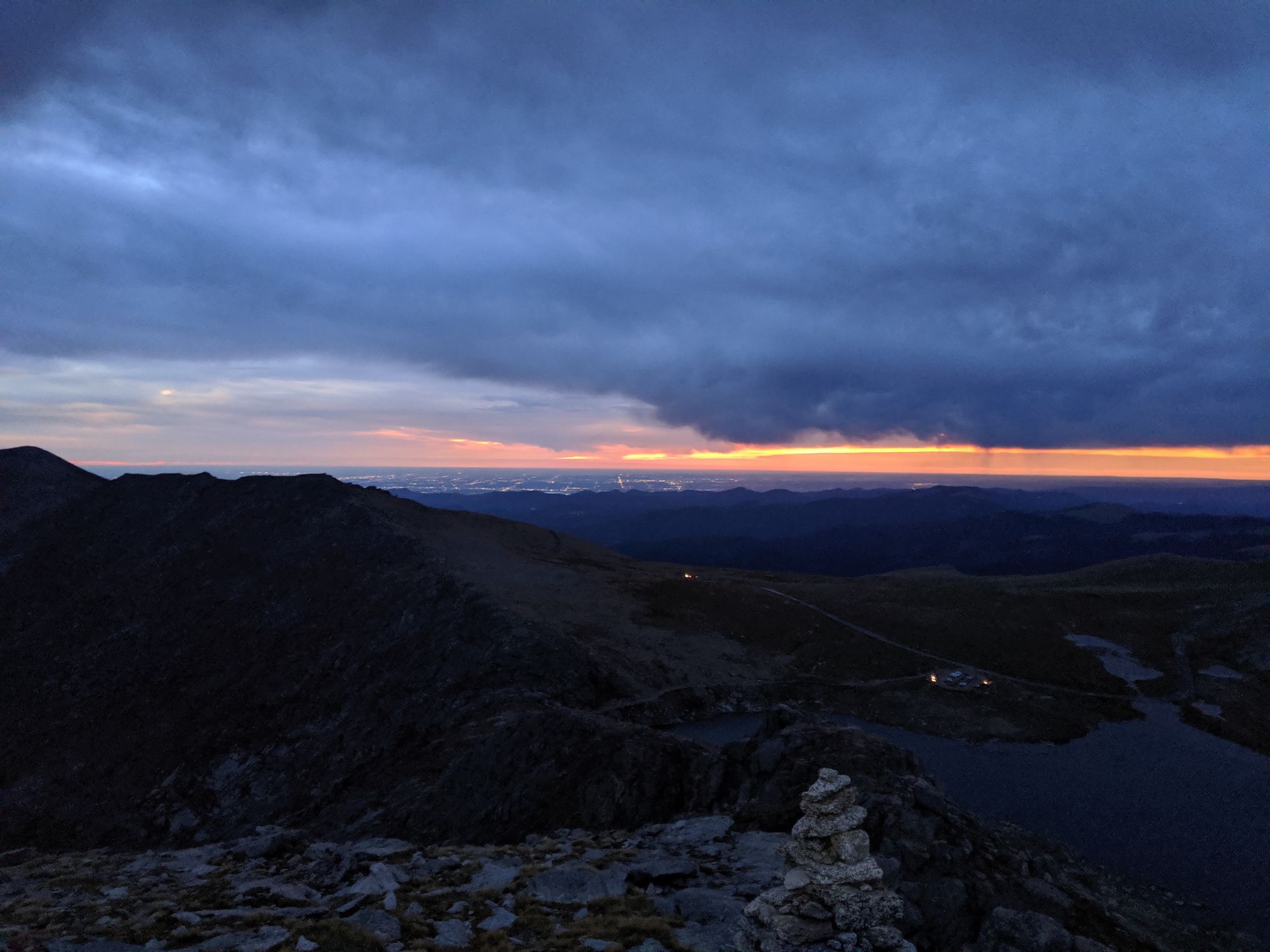 I departed the house at 3:45 AM and arrived at Summit Lake at 5:30 AM.  With the forecast late morning storms, I wanted to ensure I had ample time to summit and be back to the car before they rolled in. After getting my gear together and hitting the restroom, I was on the trail by 5:45 AM and could see the dots of headlamps of the climbers further up the trail.
The first major hurdle was to summit Mt. Spalding along the trail to Mt. Evans. I summited this 13,842' peak at about 7:15. I had planned to spend some time here for my first major break. I did run into a couple of ladies who were taking their Mt. Evans pictures here. I feel bad and ashamed that I did not have the wherewithal to tell them that Mt. Evans was still a few miles up the trail. They had pizza and beer in their packs just waiting to to be consumed in celebration of completing a hike they had not been able to complete 2 years prior. (If you are reading this...sorry).
Continuing on from Mt. Spalding, the trail took a significant drop onto the the saddle between Spalding and Evans. This portion of the trail had stunning views of the backcountry, Mt. Bierstadt, the sawtooth (didn't look so bad from that angle), and Abyss Lake. From here, it was just a long trudge up the back side of Mt. Evans to the summit. The high alpine vegetation was extremely colorful that particular morning.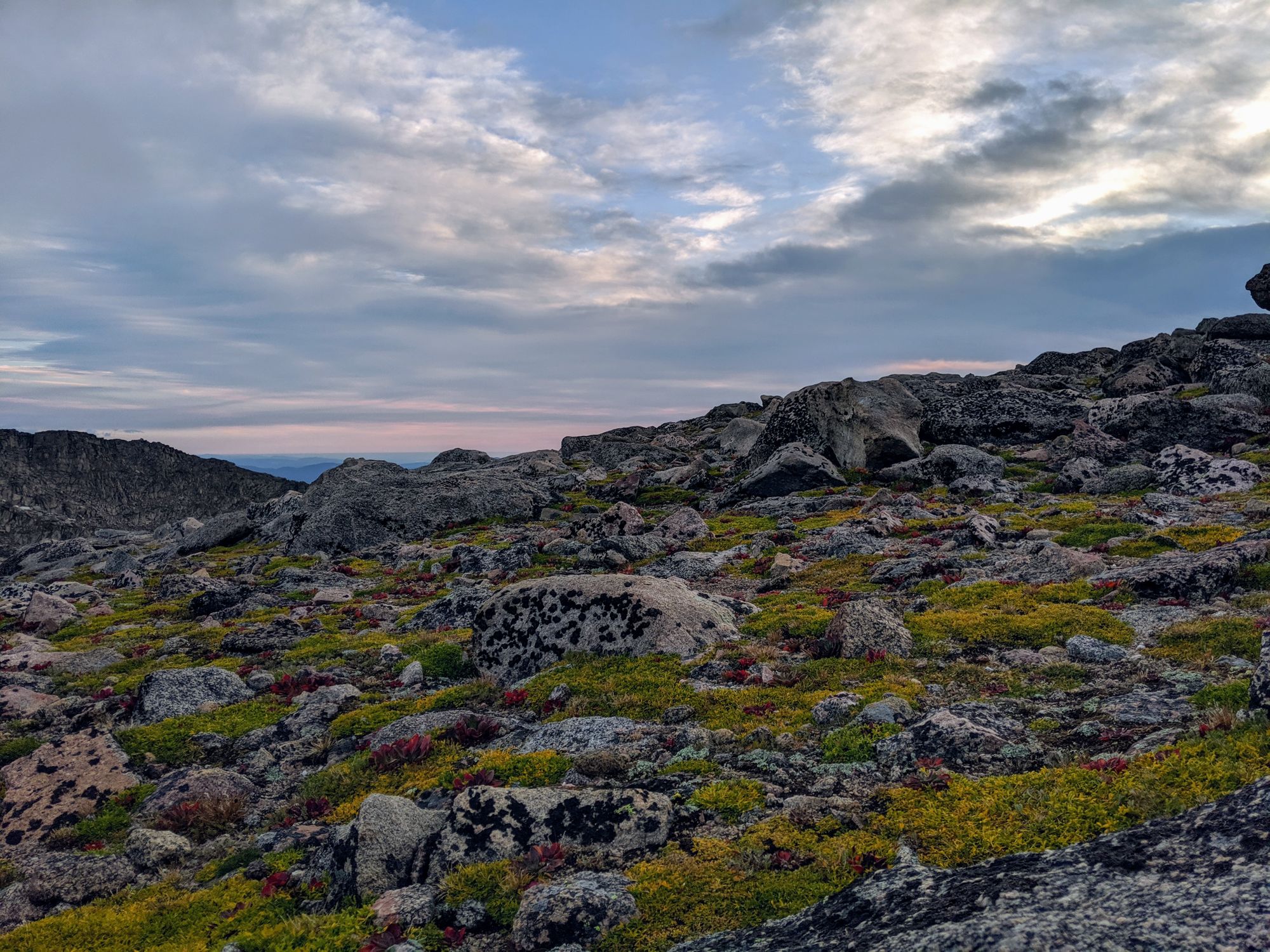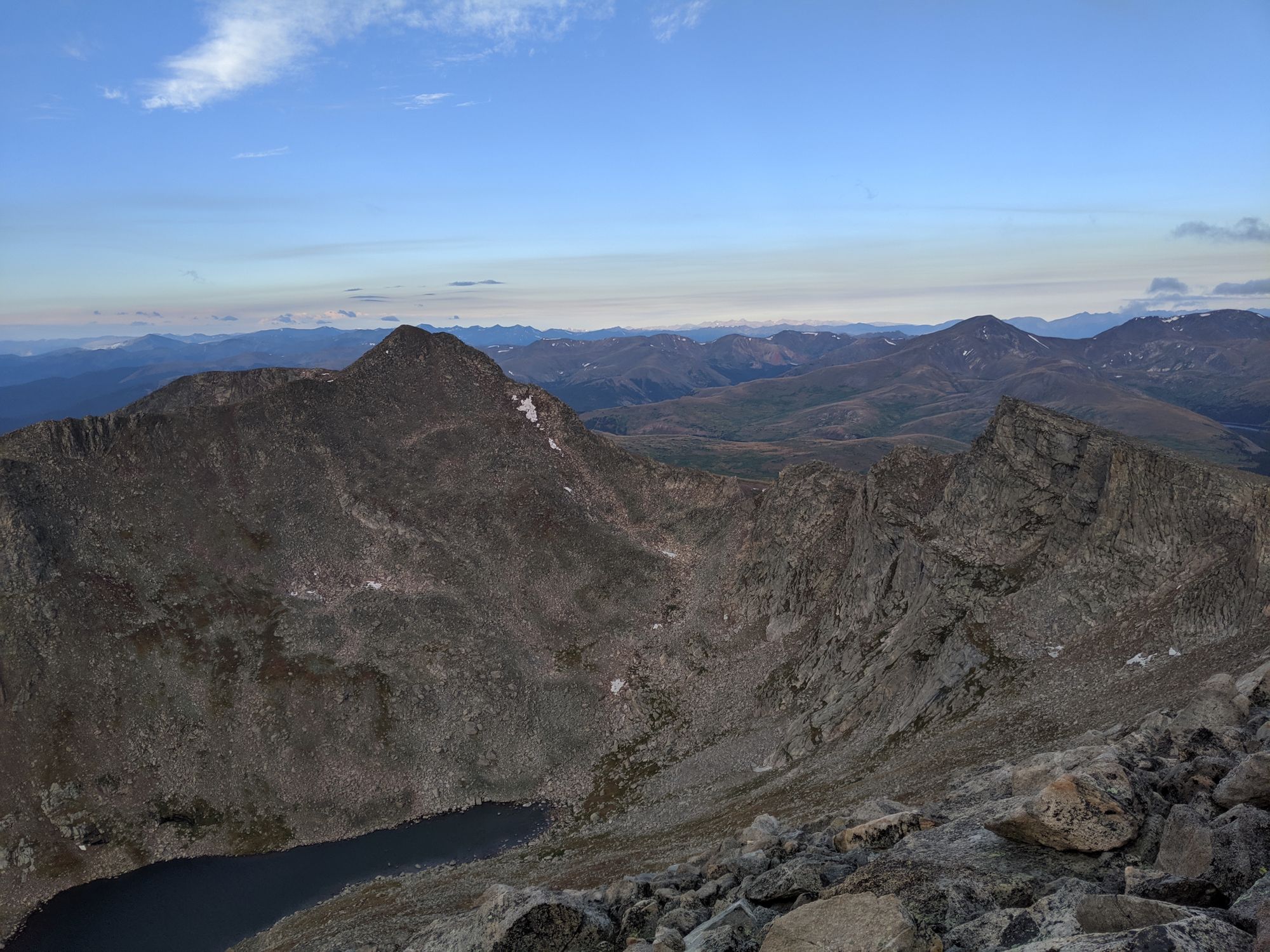 I must have not realized that there were additional structures at the summit (well almost summit). Coming around the ridge I was greeted by an observatory, some sort of mountain chalet thing, and boarded up restrooms. I opted to summit first and then explore this stuff after. The trail to the summit from where the road ends is pretty easy and well-worn due to the number of people who only climb that portion of the trail.
On the summit the wind was howling; I donned all my layers, explored a bit and then found a spot to get out of the wind. After a few minutes I decided to go back down to the summit buildings to possibly find better cover. The wind was not much better there, so I had a quick snack and then went to explore the other buildings. I found out that the observatory is powered by solar shingles on what appeared to be little cabins, though some signs said the observatory was in danger of being closed due to light pollution from Denver.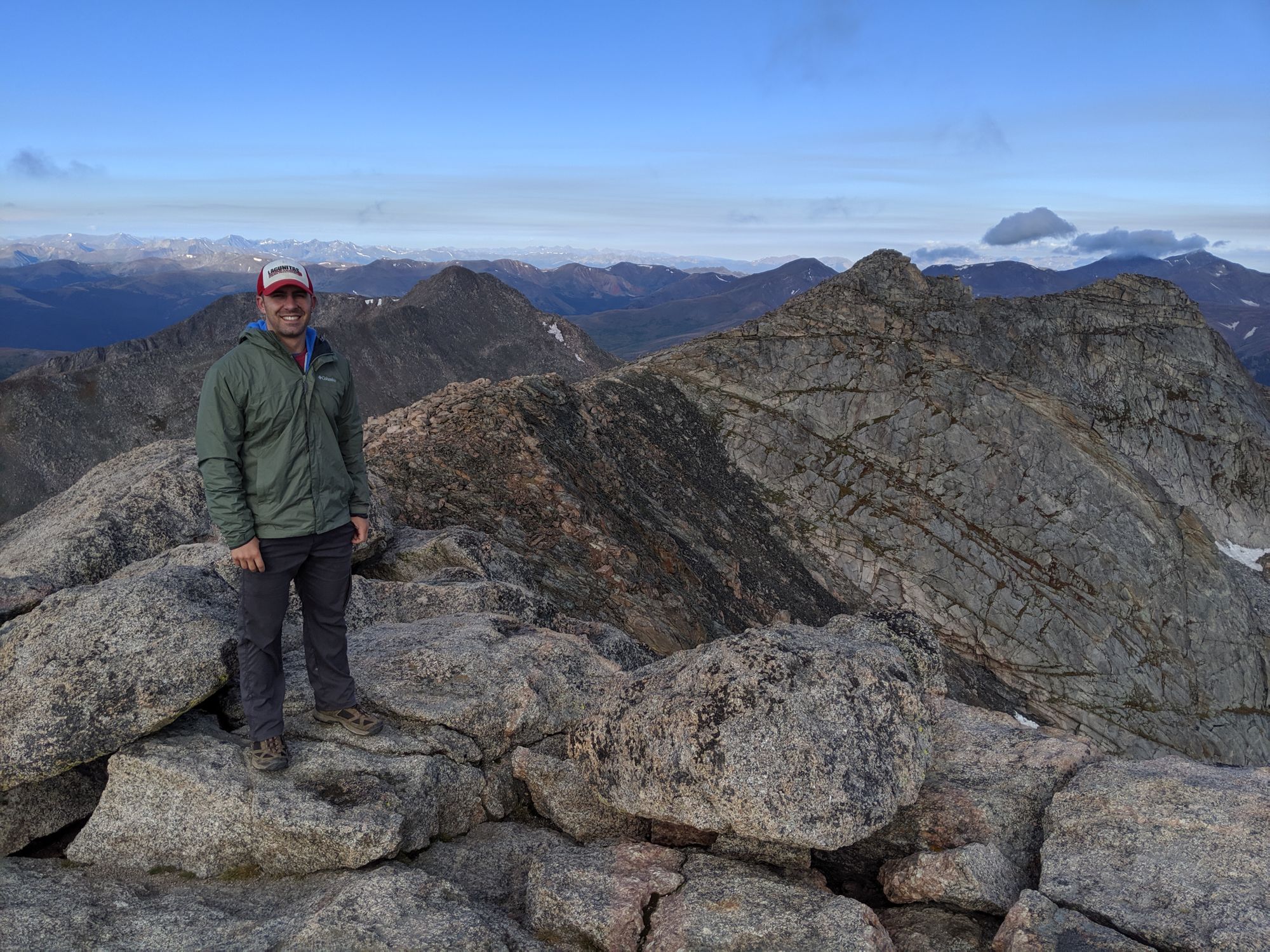 When it was time to descend, I saw everyone taking a route down the mountain's northeast face.  I had seen talk of this route online but probably would have missed it without seeing where others were heading.  This steep route down was much faster than the way up; though going up this route would not have been fun. I think the standard route had better views for the way up.
One the way down, I ended up running into the two ladies from Mt. Spalding, they had completed the hike to Evans and were already ahead of me.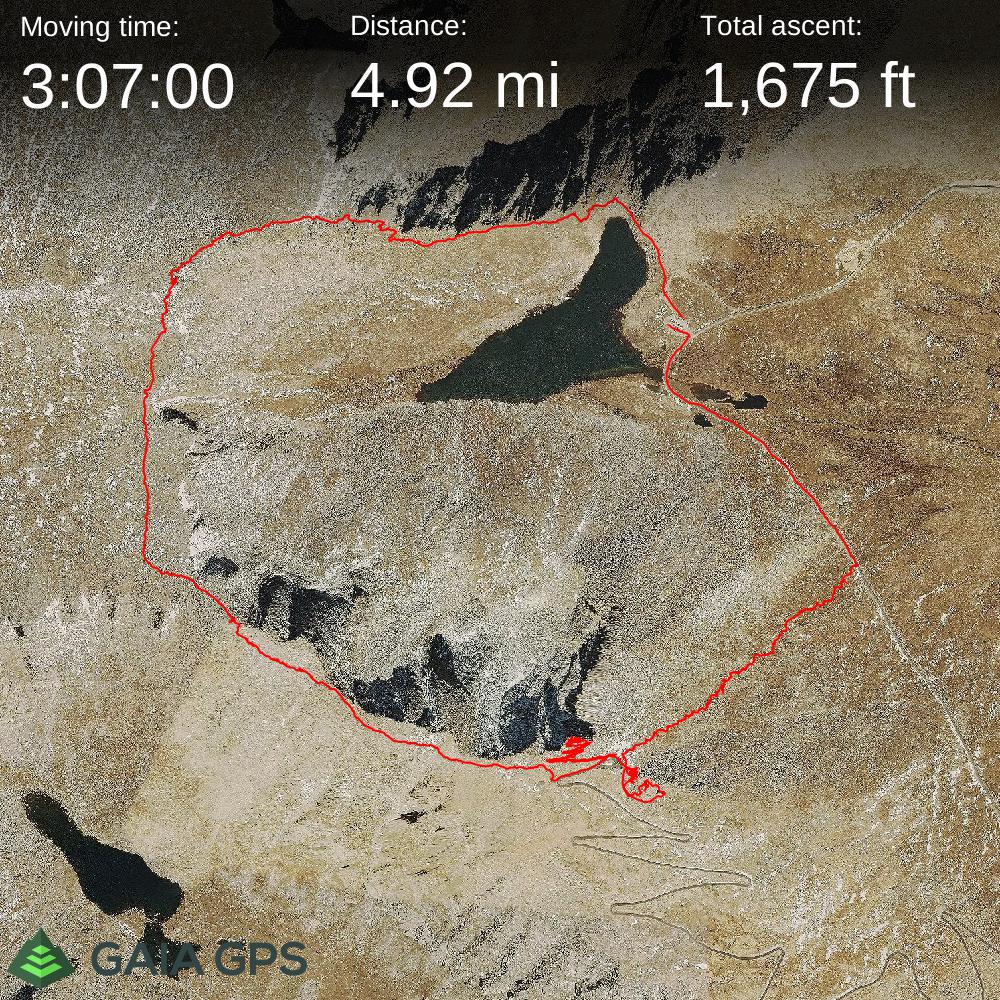 I returned to the car almost exactly 4 hours after I started at 9:45. I did enjoy this hike and it was my first 14er since moving back to Colorado.  Time to start checking off a few more!