Paddling the Colorado River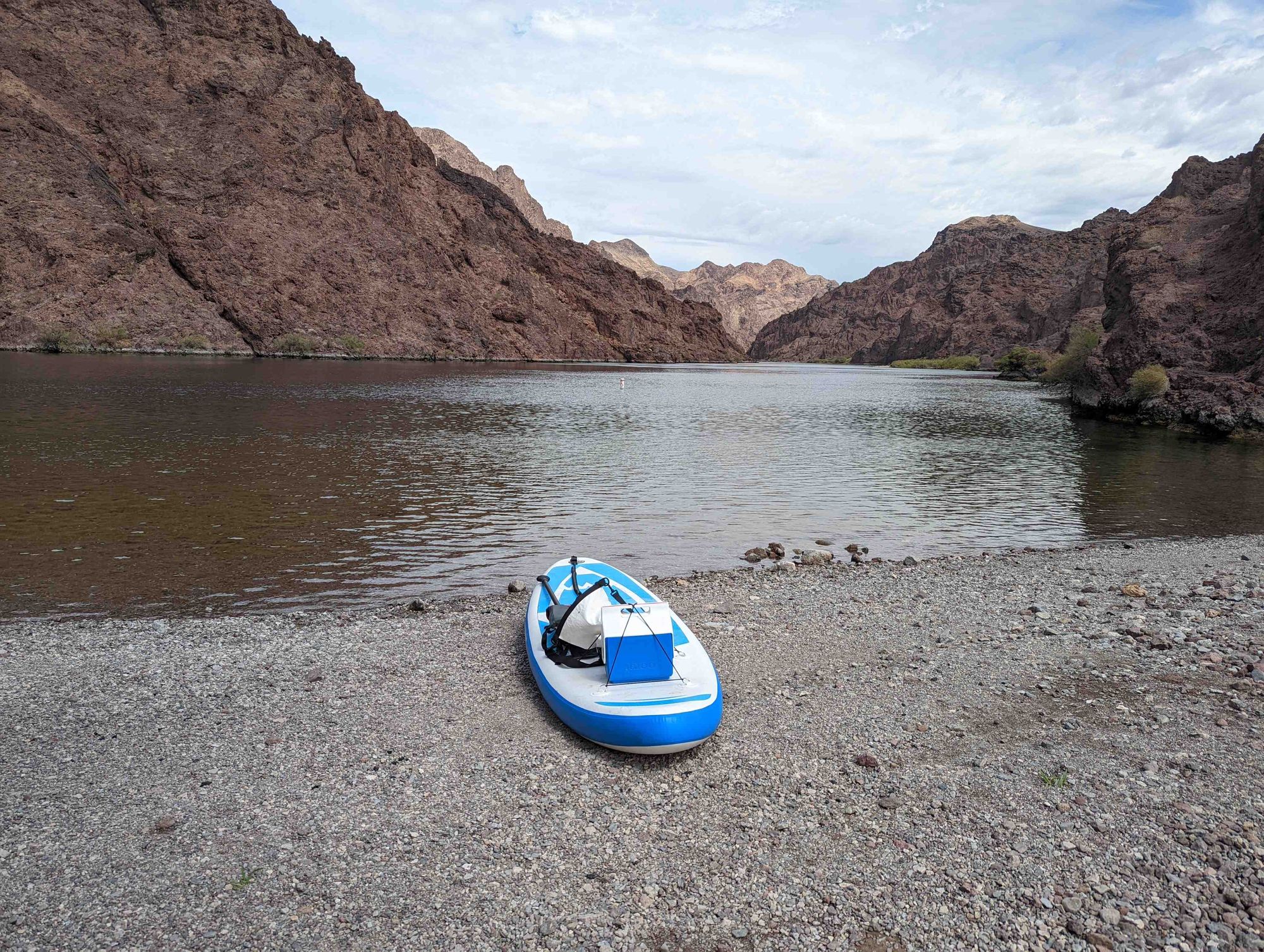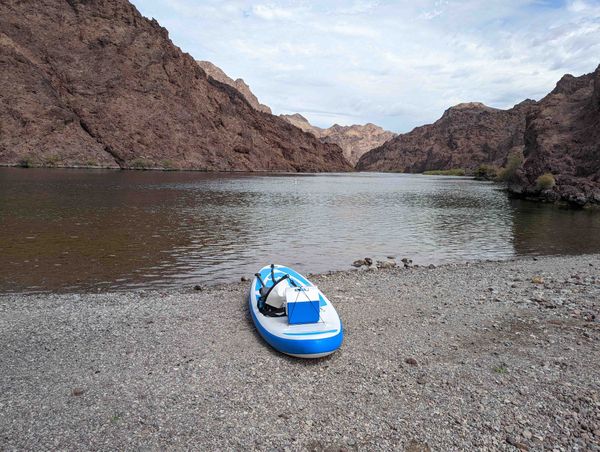 After having rented paddle boards for years, I finally bought an inflatable one and brought it with me on my annual work trip to Las Vegas. After researching the area, I decided to attempt to paddle up the Colorado River below Hoover Dam and see how far I could make it.
Planning
Looking at the area maps, the two places to reasonably get on some water are Lake Mead above the Hoover Dam and the Colorado River/Lake Mojave below the dam. I had never done more than an hour's worth of paddling, so I had some decisions to make since I was anticipating a full-day trip.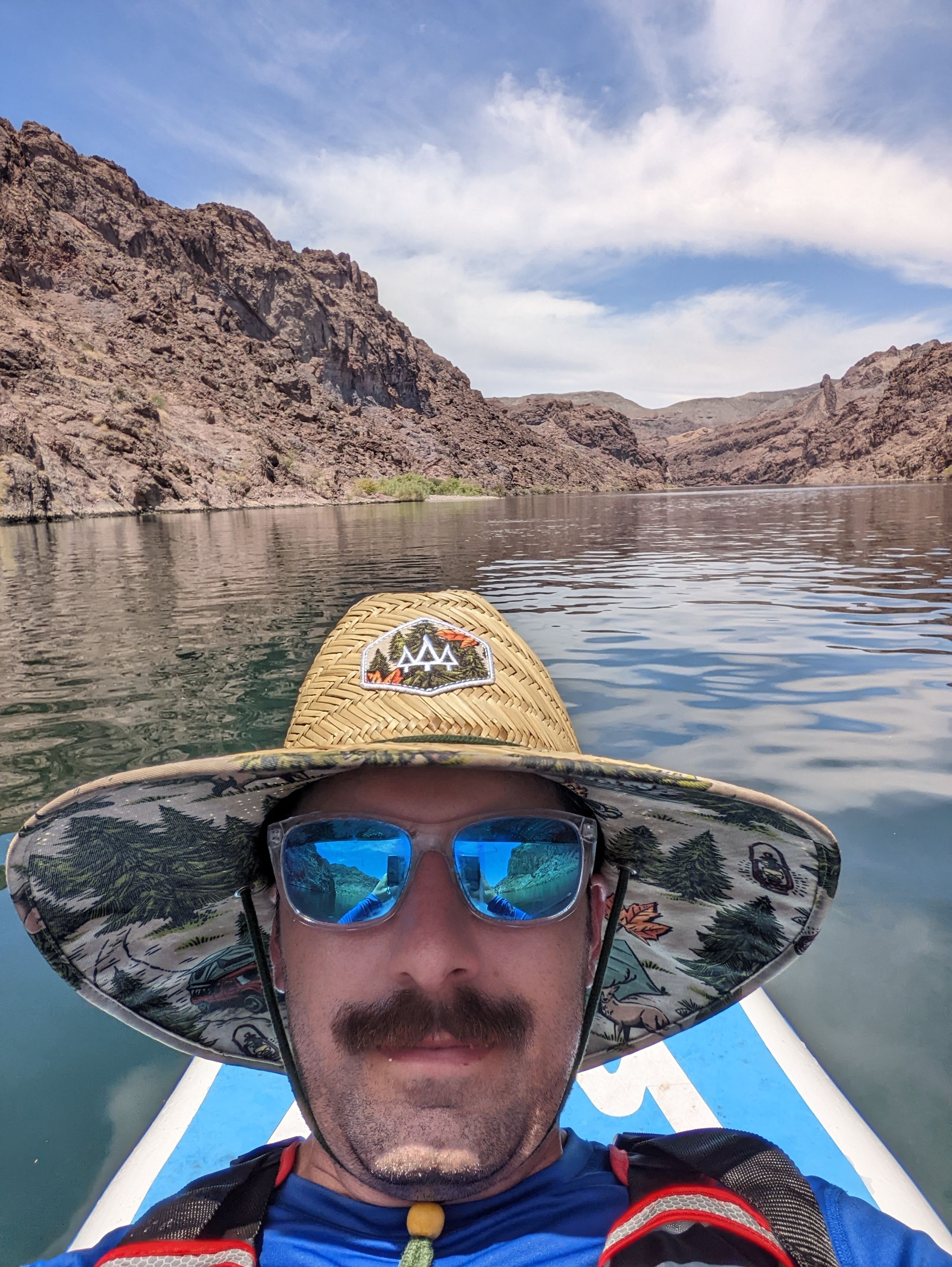 In true logical fashion, instead of deciding between the two options or paying for a tour to just paddle downriver, I opted for two days of paddling. I spent my Saturday doing a "shorter" paddle on Lake Mead. I went on an approximately 5-mile paddle from Boulder Beach around Boulder Island. I wanted to make sure I had the capacity to paddle that far and see how I felt. I did the 5 miles in just about two hours, so I also knew that my flat water speed was about 2.5 MPH, which would help me plan my extended trip on the river.
Feeling pretty good after that paddle, I decided that it was reasonable to try the river paddle. I planned to set off from Willow Beach and just paddle as far as I felt comfortable up river, knowing it would be easier to paddle back down river with the current. From Willow Beach, I had several goals of varying distances so that no matter where I decided to turn around, I would feel like I had accomplished something. I had Emerald Cove at 2.5 miles, Arizona Hot Springs at 7.5-8 miles, and the Hoover Dam at about 11 miles.
Given my 5-mile paddle the day prior and the fact that I didn't feel too tired, I felt like the Springs were a very reasonable goal, with the Dam being a pretty big stretch. Only going out there and doing it was going to find the answer. I planned on the river current bringing my paddle rate down to around 1.5 MPH, so I expected to paddle up the river for about 5 hours and then maybe 2-3 hours on the way back. So I planned for a full day on the river. Also, on Sundays, motorized traffic is not allowed upriver from Willow Beach, so I knew I would have a nice quiet day on the river.
Loaded with snacks in my dry bag and water and Gatorade in my cooler, I set off for the river.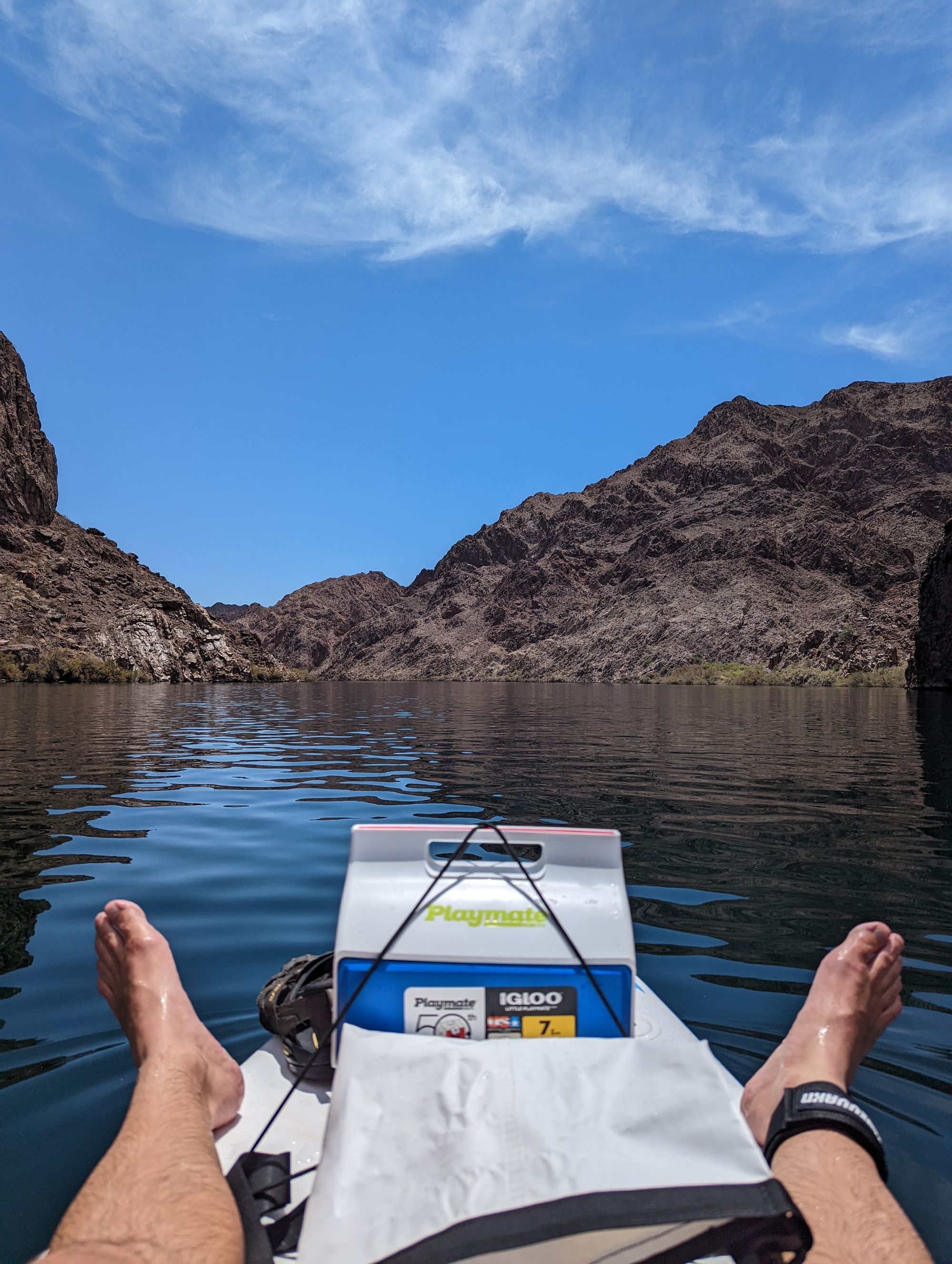 On The River
I got up early and arrived at the river at about 615 in the morning. I wanted the early start to be before the day got too hot. Even though the water is consistently 53 degrees, standing up on a board and paddling is still hard work. What I got were rain and thunderstorms. There was a light sprinkle, and I had seen lightning on my way to the river. Flash flooding and rising water levels are a real risk in a canyon like this. I had to think very hard about if I wanted to set off for my trip in this weather or if I needed to wait. Knowing that the weather was forecasted to pass and seeing the outfitters still setting up their equipment, I felt safe enough to head out. It took about 90 minutes and a few gusty/rainy spots before the weather and thunder finally passed, but the rest of the morning was fantastic with just overcast skies and cool weather.
I made my way to Emerald Cove in short order (much faster than I expected) while only seeing one other person on the river. Feeling good, I decided that making my way to the Arizona Hot Springs was very reasonable, and I pressed on. It took me 3 hours to paddle the 8 miles to the springs. I saw only three people until I arrived at the springs and started running into the downstream tour groups. I occasionally stopped to take a dunk in the river to cool off, get a drink, and eat some food.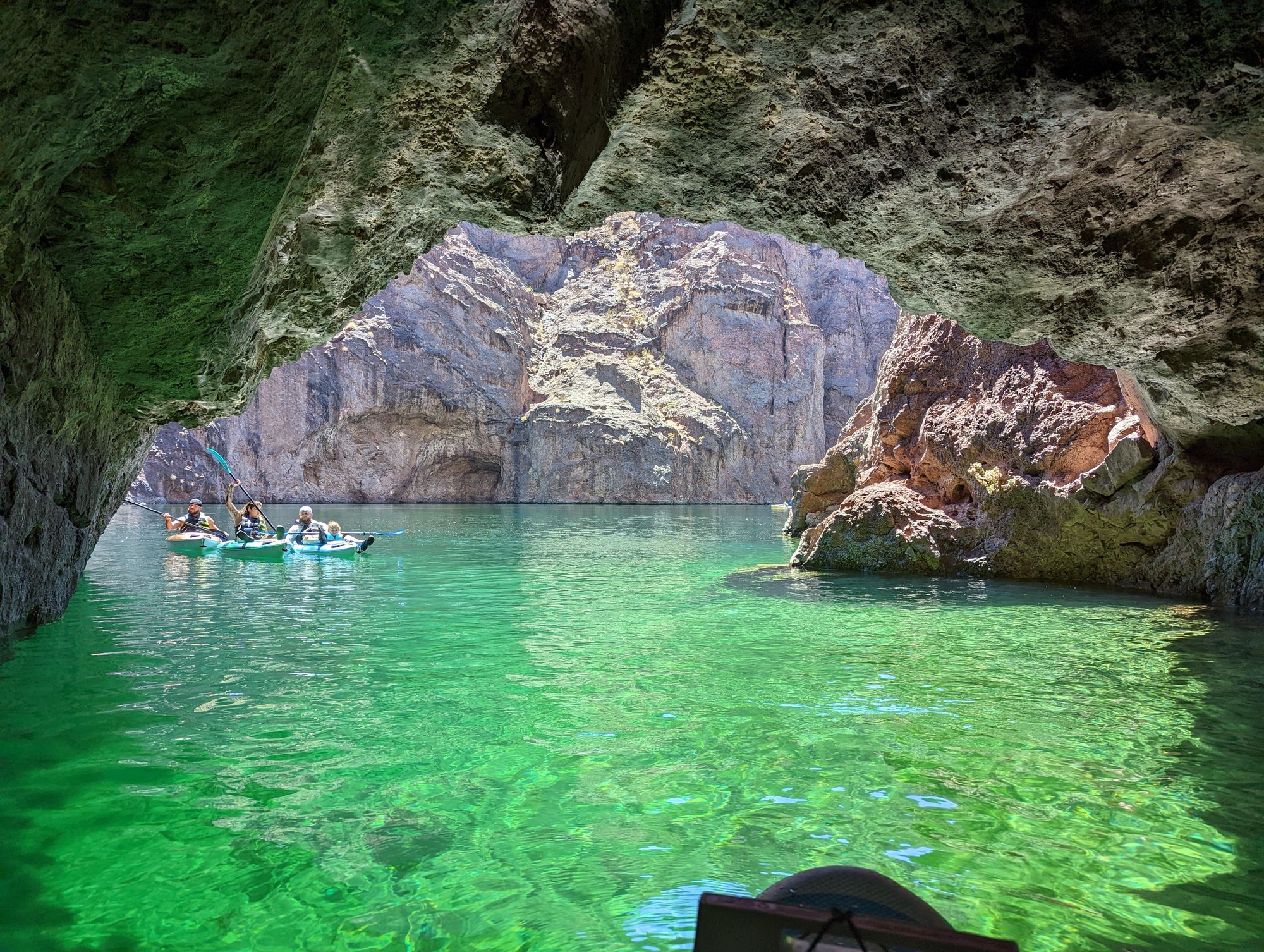 Altogether, the paddle to the springs felt short. It was a relaxing paddle; I only had to paddle hard in a few spots. The river's current was extremely tame, and I kept a pretty high pace the entire trip without having to work too hard.
I took a more extended break at the springs to soak in the brain-eating amoeba-infested waters (mostly safe, don't worry) and rest before I continued the trip. The shade of the canyon made the temperature perfect. The springs consist of several pools, each getting progressively hotter. I could barely even get in the last pool because it was so hot.
At this point, I had to decide if I wanted to paddle the last 3-4 miles to the Hoover Dam. Checking my water supply, I was lower than I would have liked, and I knew the weaker-than-anticipated current would not help as much going downstream as I thought. With both points in mind, I decided to return from there. This also allowed for my return trip to be more relaxing as well.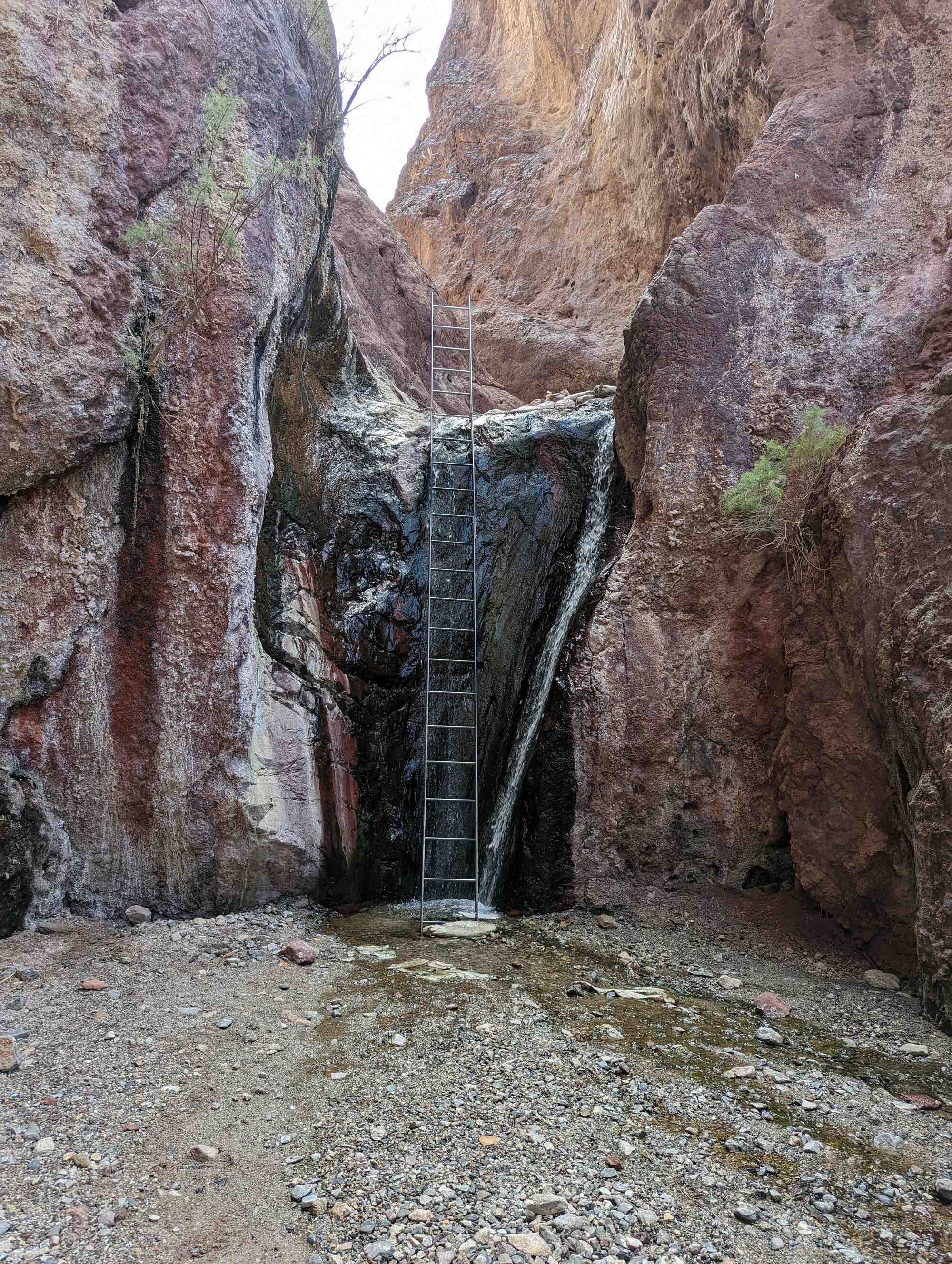 On the way back, the river was much more crowded now that tour groups and people who just wanted to do shorter paddles near Willow Beach had made their way out. Since I had skipped Emerald Cove in the morning, I stopped this time but had to wait in a 20-minute line before I got to go in.
I made it back to the Beach in about 9 hours of total time (8:11 of that paddling). Honestly, I felt way better than I had thought after a nearly 17-mile paddle. The trip was so much fun and was totally worth it. I will definitely be making that trip again!
Of course, on my way home, I had to stop at a brewery. I stopped at Able Baker brewery in downtown Las Vegas Arts District on the recommendation of a friend. I was not disappointed.