Rackspace/Crossfit 8808 Snow Brawl 2016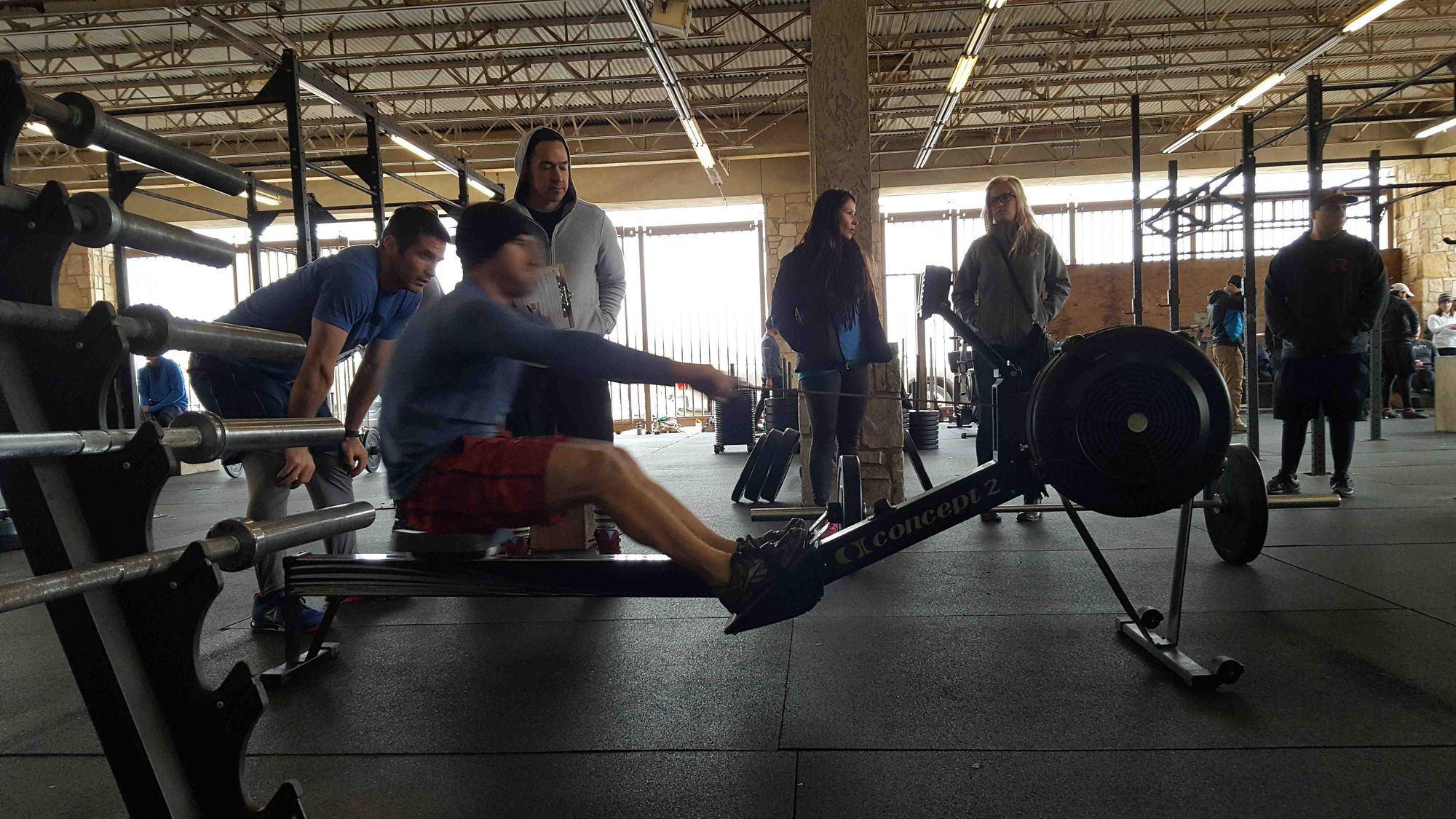 Well I did my first Crossfit competition in probably over a year this past weekend. It was hosted at Crossfit 8808, which is the awesome gym that we have at Rackspace. The competition was extremely well run and the workouts were deceptively hard despite their show duration. The competition was a partner event and I paired up with Shaun, one of the guys I normally work out with in the morning. He generally can beat me at most METCONs but I can beat him at most workouts that involve heavy weight, so I knew we would be a good combo.
The first workout was 5 minutes of thrusters at 135#, a minute of rest, and then 5 minutes of bar-facing burpees. The rep scheme was alternating between partners in a ladder fashion (1,1,2,2,3,3,4,4...). 135# thrusters were heavy as expected but not altogether terrible. The rest while Shaun went felt adequate to recover for the next round. The burpees though were something else. Following all those heavy thrusters our legs were trashed more than they originally felt like. Hopping over the bar felt like I was jumping out of tar for the first few rounds. Then I found my rhythm. I am not sure that I have ever done burpees that fast in my life. Somehow I just had the perfect pace and movement to hop over the bar and slide my feet along the ground quickly while I went down for the next burpee. I felt atrocious afterwards (like I had just done Fran) and was unsure about how I would tackle the remainder of the day. But after about 30 minutes, I finally felt ready to go. One of the other teams mentioned that they thought I was done and had gone out the gate too quickly. But I know my competition resiliency and I am always able to give a full effort to remaining workouts.
The second workout involved a partner 1000m row followed by 30 hang power snatches, 30 box jumps, and 30 C2B pullups. We did pretty well on this workout. The only thing we should have done better was plan our reps and who was going to do how many of each movement. This really bit us on the box jumps but elsewhere was probably negligible. I was able to do 21 unbroken C2B butterfly pullups, which I was very happy with. I had planned to do box step ups going into this workout (I didn't realize is was a 30" box jump) but ended up doing jump up/step down.
The third and final regular workout was a 12 minute AMRAP of 5 deadlifts at 245#, 7 toes-to-bar, and 40 double-unders. Shaun had a hard time getting his DUs on this one so it ended up not being a difficult workout. We were in second place going into this workout so even a less than awesome performance here did not hurts us and we ended up in a 3-way tie for second at the end of the regular workouts. Only 2 teams were going to be doing the final workout but due to the tie, all 4 teams participated.
The final workout was mostly a strategy move. It was 8 minutes for one partner to establish a 3RM shoulder-to-overhead followed by the second partner performing 20 overhead squats at 115#, 15 hansdstand pushups, and 10 muscle ups in 8 minutes and using the remaining time to do max pistols. I did the second part of the workout because Shaun could not do pistols and we reasoned we would gain way more points from the pistols I could do than the additional weight I would be able to lift. I breezed through the OHS and the HSPU, but the MUs were a bit more difficult. I had to break it up 5,3,2. I guess I need to work on those. In the remaining time, I was able to complete 110 pistols! Holy cow, I had no idea anyone could do that many.
In the end, we got 2d place and had a blast. The weather was pretty cold, but it really was optimal for working out. I cannot wait until the next one!