Skiing With a 2-Year-Old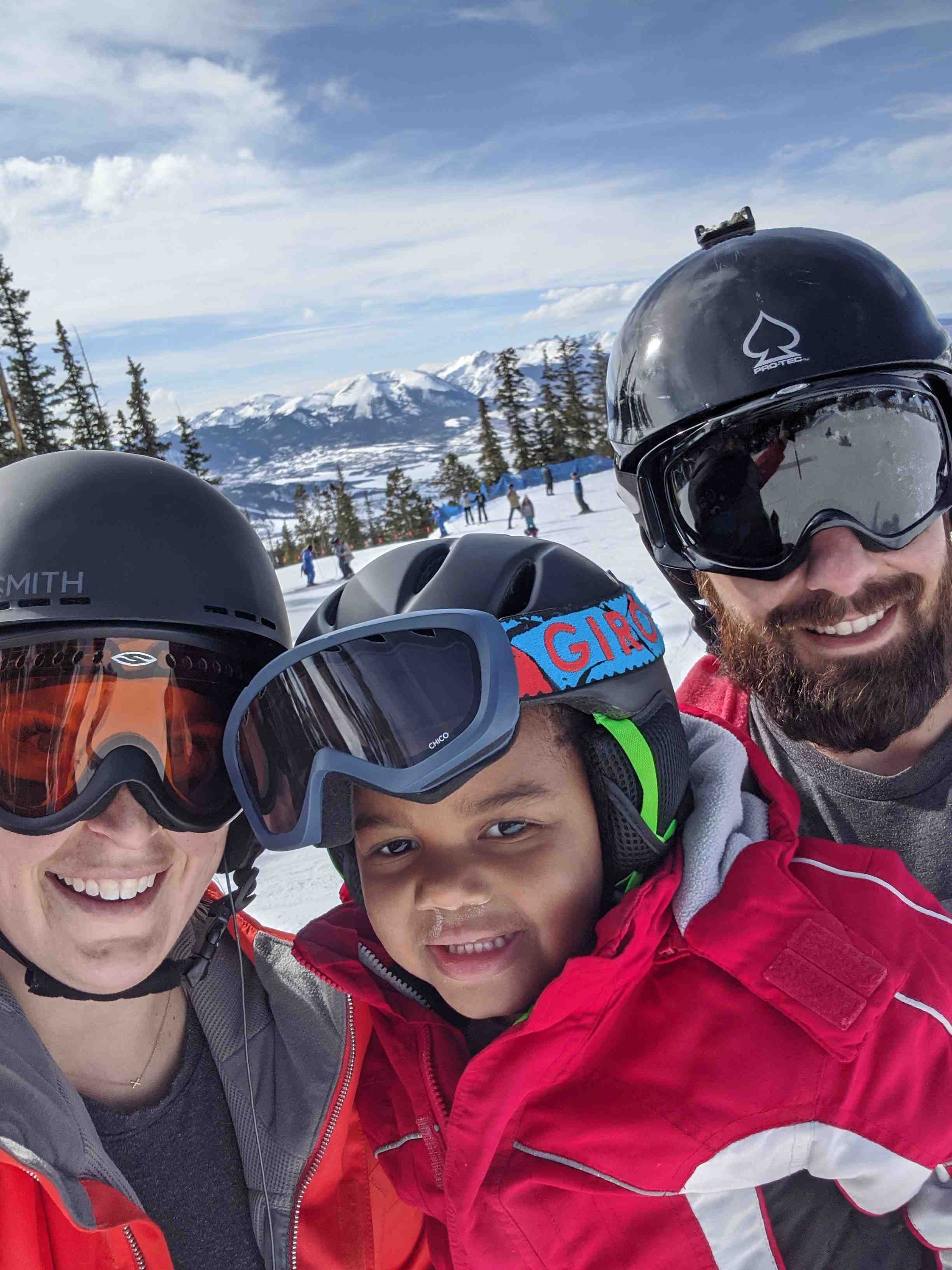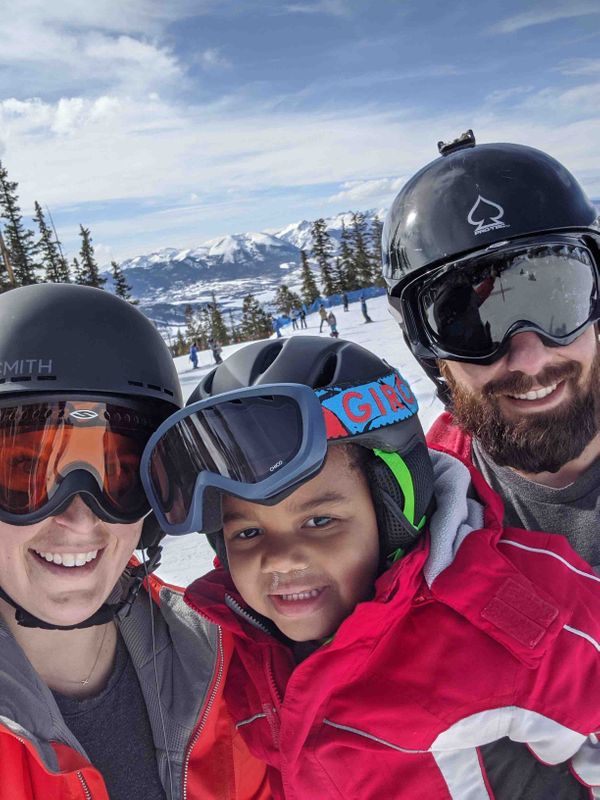 We took our son skiing for what could be the last time this season. As such, I thought it would be appropriate to recount the trials, tribulations, and celebrations of a season of skiing with a 2YO.
Patience and Expectation Management
The key to every ski trip with kids is patience and expectation management. Expect that every single step of the process from loading the car at home to getting gear on to loading the lift and getting to the top is going to take significantly more time that you expect. Expect that your kid is going to have a meltdown. And expect that it will ALL be worth it for the times that everything goes right.
Our goal, each time we took our son skiing was simply to get to the top of the mountain and get skis on his feet. Getting to do runs with him was always gravy. In order to ensure that he grows up enjoying skiing, we wanted to make sure that none of the trips gave him bad memories about being forced into ski boots or forced to ski when he was tired.
On at least 2 trips, we did not even make it that far.  One particular day, we drove halfway to the mountains and then turned around because he wanted to go home very badly. On that SAME DAY, I decided it would be cool to try again. So, during his nap, we drove up to Winter Park, got a front row parking spot, got our little guy in all of the ski clothes but could never get his boots on. So, we turned around again. Single day, 1.5 trips to the mountains, no skiing 😭.
On several other occasions, everything went well but we only got 1 or 2 runs out of him before he pooped out and wanted to just go inside.
The key to all of these situations is PATIENCE. It is not his fault that he is cold or uncomfortable, it is mine for taking him. It is not his fault that his boots don't fit; it is mine for not checking them before going to the mountain. All of the hard work this season was not to teach him to ski...it was to give him an idea of what skiing is so that next year, when he is ready to tackle lessons, he is already at least a little bit accustomed to what is going on and can hopefully enjoy skiing a bit more.
Gear
Skis and Boots
Several stores in the area offer youth trade-up programs where you buy gear one year and get to trade it in for a discount on next year's gear. We ended up going to the Epic Mountain Store (I know, I know, "Bail on vail"). Their program and prices were pretty good, their staff was super nice, and they allow one mid-season boot size exchange (which we ended up needing).
Before going to try on gear, I showed our son some videos of skiing so he knew what we were doing, what the boots looked like, and what other kids looked like while skiing.  That seemed to help at least a little bit.
One recommendation, since they are kids and they are not going to be doing super tight turns, there is no reason to size their boots exactly. Err on the side of larger. The worst thing for kids on the mountain is boots that don't fit right.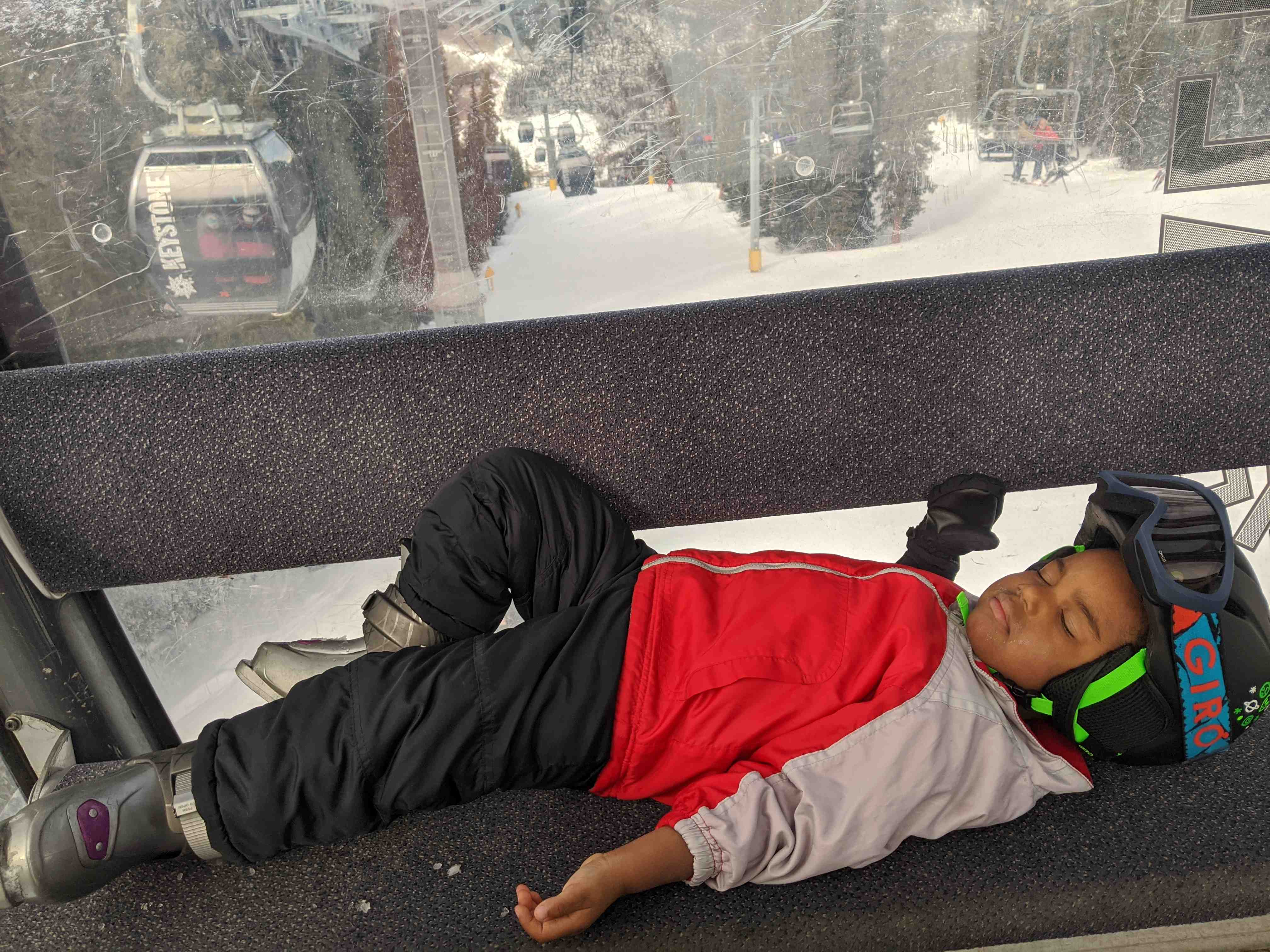 Also, be sure to order an Edgy Wedgie. This device keeps the tips of your kids' skis close together both to assist in stopping and in general to prevent the skis akimbo situation.
Clothing
For his actual ski clothing, we went to Once Upon a Baby and found some used but almost new looking snow pants and a snow jacket. We ordered him a balaclava for his face and neck.  We also got him a helmet as we want him to start off knowing that helmets are a critical piece of gear.
The only piece of clothing that we really went all out on what gloves. We figured that body part that is going to get the coldest and cause the biggest issues were hands. So, we went with a nice set of North Face mittens for him.
Note: mittens are the bees knees. If you are looking for warmth, always mittens.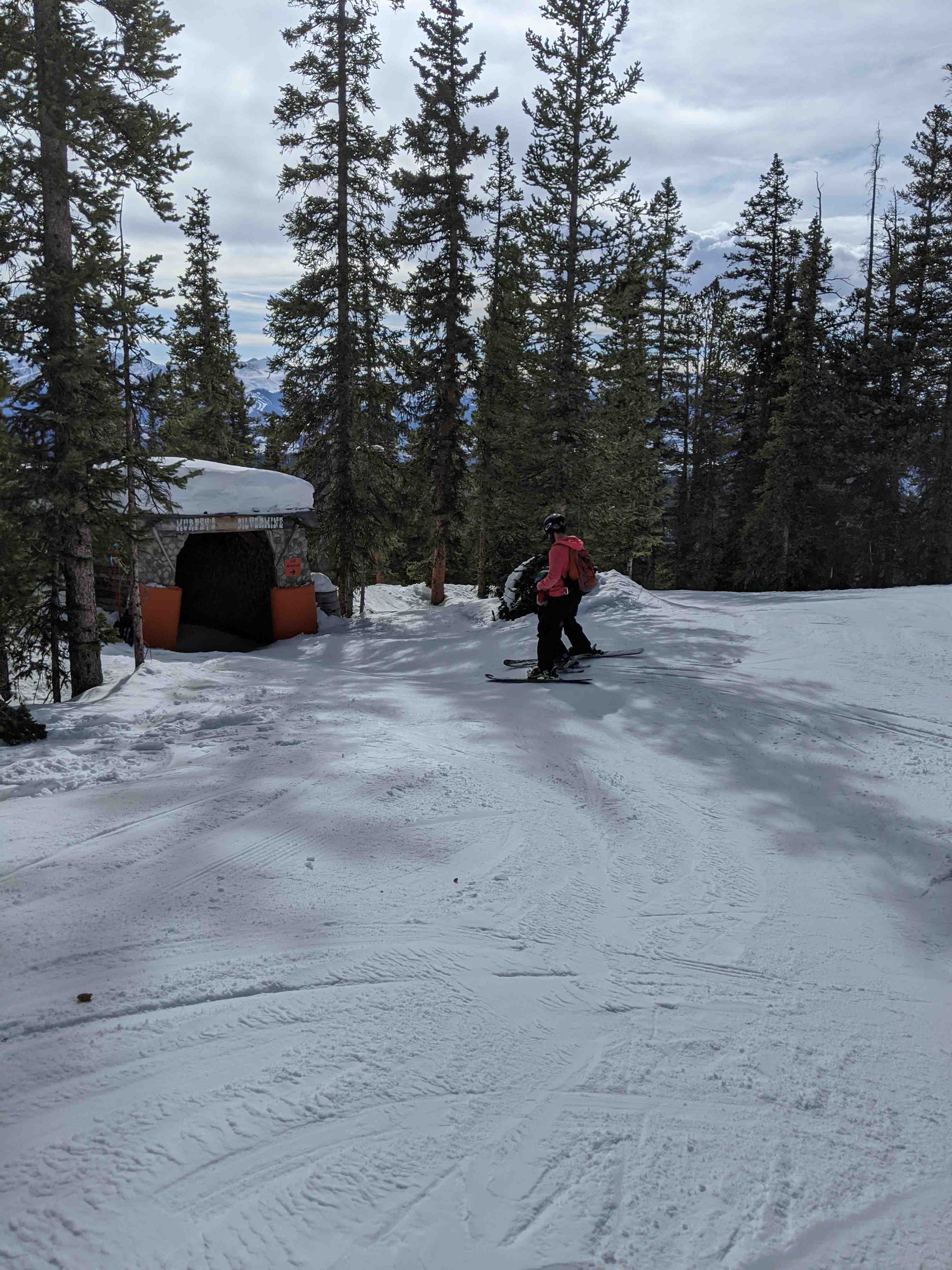 Gear We Wish We Had
The one item we constantly talked about but never bought was a harness or vest with a handle. Most of the time skiing I was holding our son's hands or jacket. It would have been nice to have one of those handles.  We had heard that they can sometimes lead to difficulties in learning because the child starts to rely too heavily on it. That being said, he did the same with my hands and it would have saved my back and legs a bit if I had had the handle.
Skiing!
The actual act of skiing is the whole reason we are here right? So here was a typical day from start to finish.
Load The Car
The night before any ski trip I would load up the car with all of our gear. We found that putting all of our ski gear in a single big tote was key to success here. All I had to do was grab that tote and I knew all of our clothes, gloves, and hats would all be in there.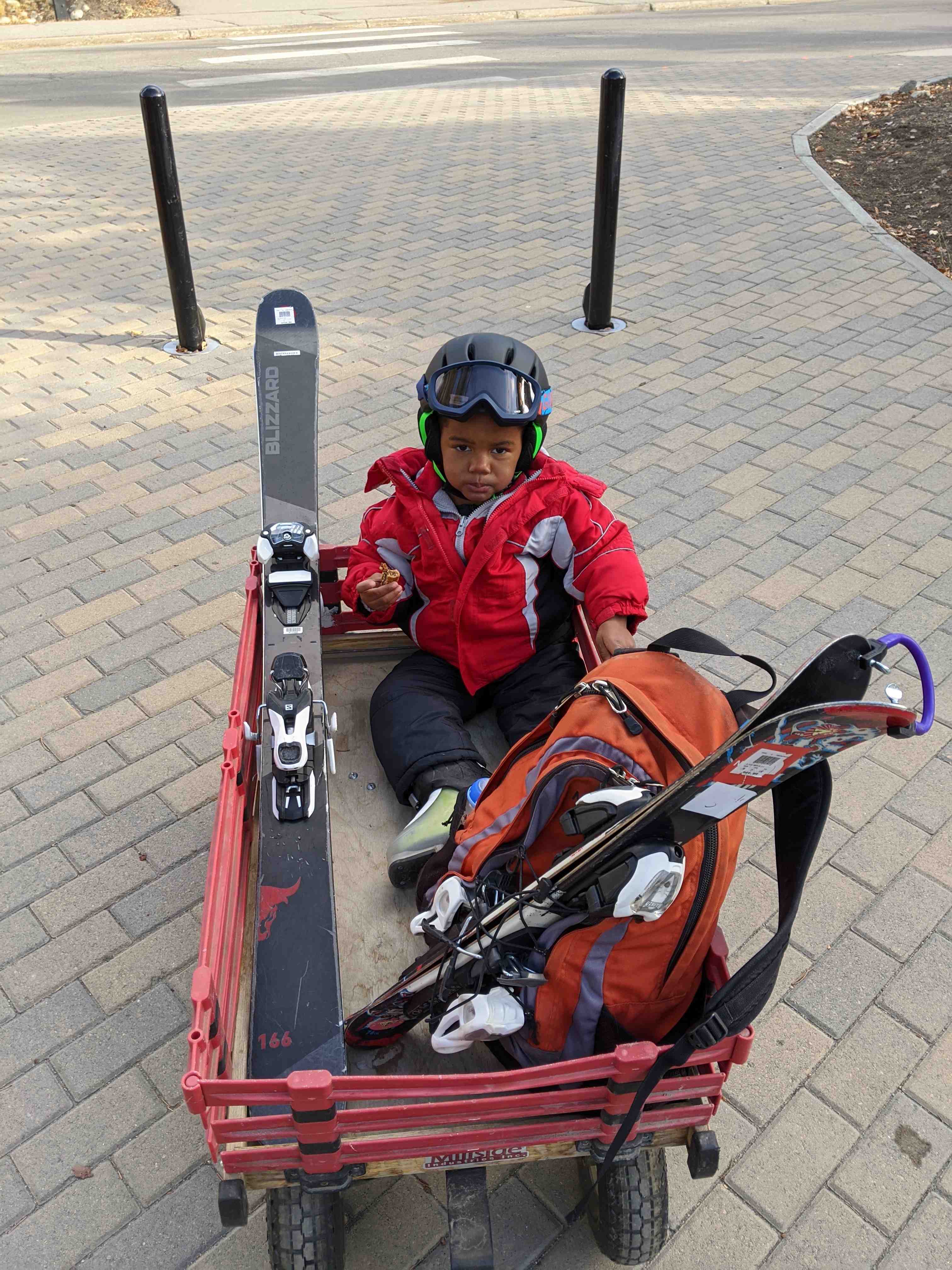 I would prep the backpack with food, snacks, drinks (for the adults), all the normal diaper back type stuff, and anything I thought we might need to keep our son comfortable (toys and whatnot). Lastly, I always. pre-made some overnight oats for breakfast that we could throw in the car to eat on the way.
Heading Out
Typically we would try to leave before 6 AM to beat traffic. The goal was to get our son into the car still asleep and have him sleep until we got to the slopes. Although we routinely left on time, I don't think he stayed asleep even a single time. So bust there.
On a couple occasions we left mid-day (after the morning rush) and both times the drive and parking situation worked out really well. This may become a strong contender for our main method next year.
Luckily, in either situation, Keystone has front row family parking, so we generally got to take advantage of that.
Oddly enough, when the whole family would go (not just our kid and I), the Wife and I ended up with a nice 1-2 hour chunk of time to just chit chat and talk about life things. It was almost like a date (just with the Frozen soundtrack in the background for our son).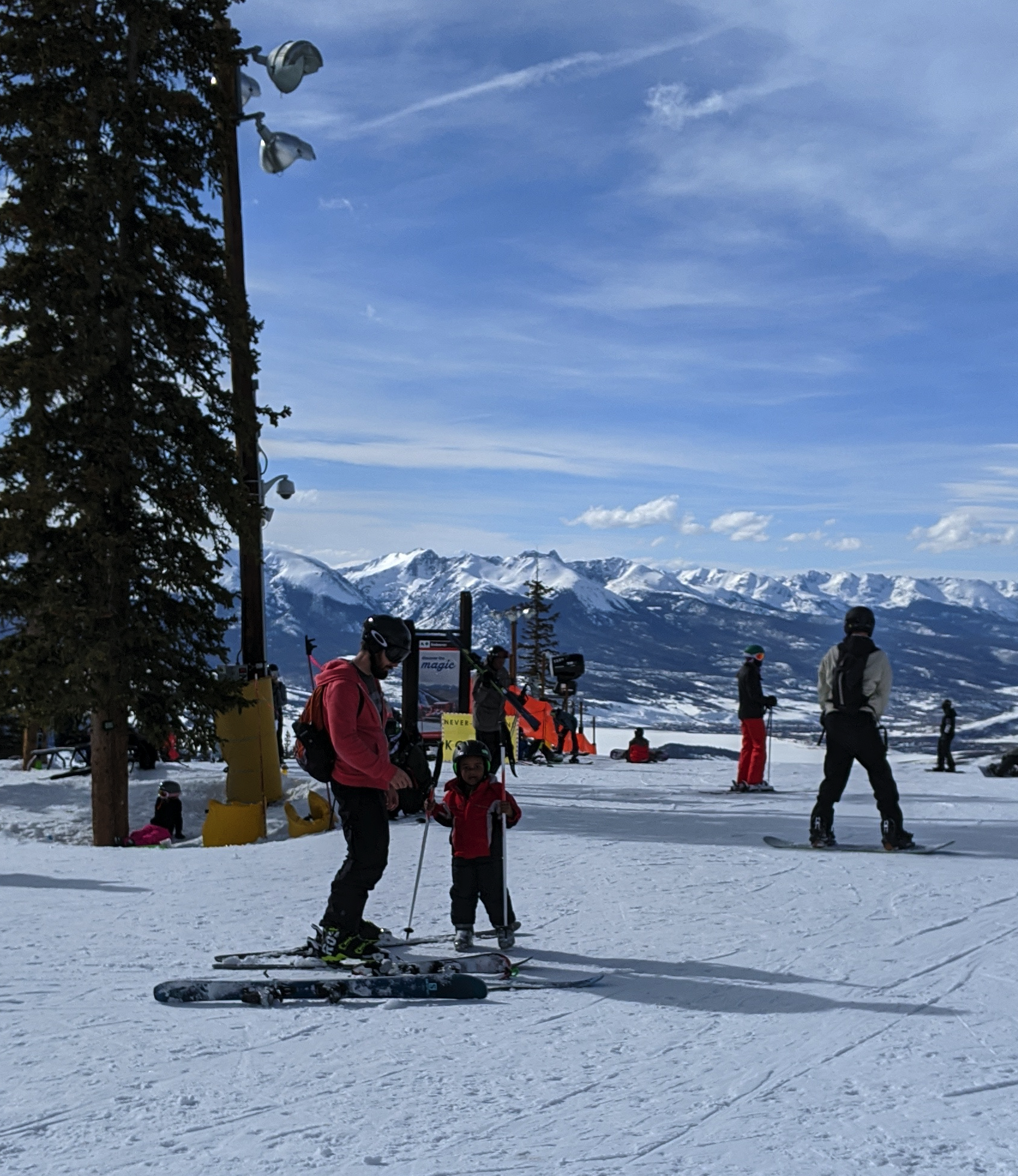 Getting To The Slopes
After parking the plan was generally for me to get geared up super quick so that I could help our son get all of his gear on. Although I always wanted to go this as quickly as possible, I learned early that this is the one place that can make or break the day. Taking our time here was always beneficial. On a couple occasions (all of them) we had minor meltdowns at the car, so we just took our time, let him calm down and then we would be off to the races.
This is also where having a favorite toy or snack can come in really handy. We always had a Lightning McQueen and M&Ms handy.
An additional nod to Keystone, they have wagons in the parking lot for skier use. So we would grab a wagon, load up the gear, and then drop our son in to wagon too and he would get a fun ride from the car to the Gondola.
Once at the top we would usually pause for a potty break before giving our son a few options. By the end of the season there were always 4 things he would want to do on the mountain. Ski, go to the snow fort, ride the second gondola to the North Peak, and go inside to watch stuff on the phone.
On any given trip, that order of operations was fully negotiable. The availability of options at Keystone really helped to keep our son at ease and allowed him to make some of his own decisions.
Actually Learning to Ski
The first few trips out, I was also learning to ski. So our "lessons" for our little guy consisted of standing in front of him in our boots and just slowly guiding him down the mountain.
As he progressed a bit, we transitioned to kind of running backwards down the mountain while he "skied" to us. This started to work really well. Both of these methods utilized a bunny slope with a "magic carpet" lift so getting back to the top was simple.
As I got better at skiing I started putting him between my skis so we could do some more turns and go a little faster. He seemed to like this method a fair amount more. This method also allowed us to expand our horizons a bit and take him on a real chair lift.
With both of us on either side, we could load the lift easily with him and teach him a bit about how to do it on his own.
By this last trip we were carving together and going through a tunnel that he really liked. On this last trip, we did 7 runs with him in the learning area (3,600 vertical feet...I know, crushing it!).
A Season of Joy
Despite all the headaches, the turning around, the meltdowns, the Herculean effort of getting a 2YO up a mountain this ski season was my best one to date. There is just a level of joy from watching your kid enjoy one of your favorite hobbies that is hard to attain elsewhere.
Skiing helped us grow as parents (patience, explaining things, emotion management, etc.). Skiing was also a great way to get our son out of the house and into the outdoors.
We will see how often he asks to go skiing throughout the Spring, Summer, and Fall.