The Journey To My Private Pilot License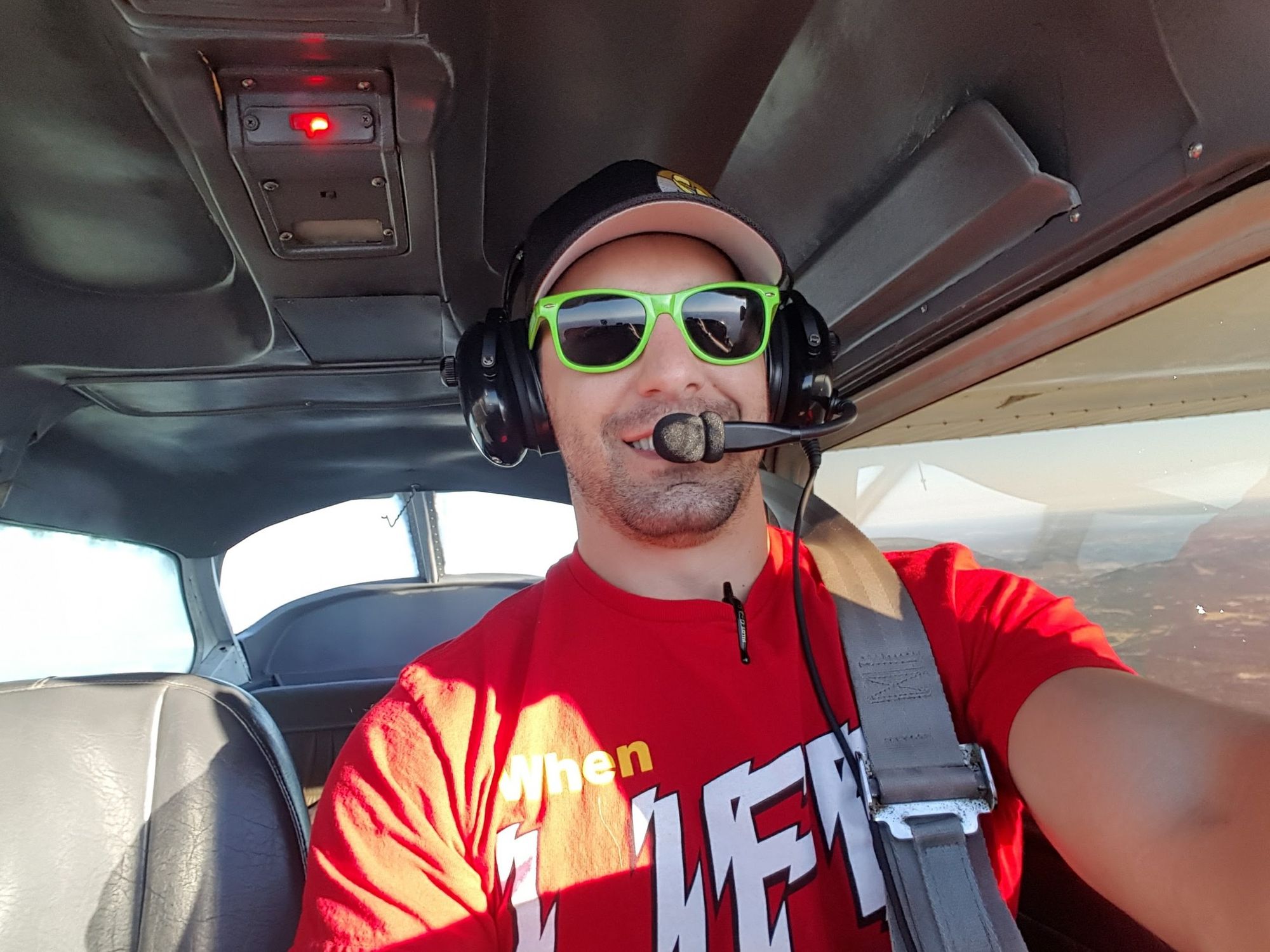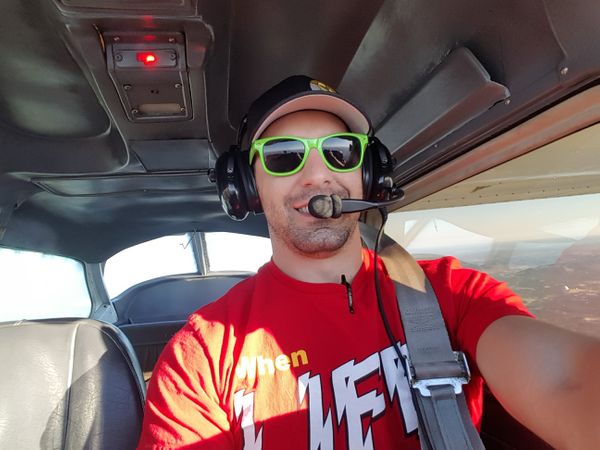 I finally received the permanent and plastic version of my Private Pilot Certificate in the mail this week after completing my checkride on 11 November. Seemed like this would be good time to document my journey from beginning to end.
Becoming a Pilot
I think I have wanted to be a pilot and fly a plane for quite some time now. I went to the Air Force Academy dreaming of being an Air Force pilot. Unfortunately, the Air Force decided that I have some rare eye condition that prevented me from flying a plane (or doing anything that seemed cool, but that is a story for another time). Apparently one eye grew stronger than the other over my lifetime and affected my depth perception...who knew? As an alternate hobby, I took up skydiving instead (because apparently depth perception is not required for that!). Skydiving really only had the effect of deepening my desire to fly a plane someday because skydiving necessarily involves the use of general aviation aircraft.
After I transitioned from Active Duty to the Reserves and a civilian career, I all of a sudden had a ton of extra time to spend at home and on my hobbies (weird right?). Traditionally in our small family I spend all the money on my hobbies and Briana whose hobbies are generally less expensive, does not spend a whole lot of money. Unless it is on furniture or artisan foods, then she spends a lot. Enter my "brilliant" idea.
A Hobby for the Two of Us
On the search for a cool hobby that we could both do together, I asked Briana one evening, "Hey, would you be interested in getting your pilot's license?" Surprisingly, she said she thought that would be fun! I immediately scheduled us both for FAA flight physicals because we did not want to invest a bunch of money only to find out my eyes still disqualified me or something would disqualify Briana. We both passed easily and had our FAA medical certificate and co-issued Student Pilot Certificates. And like all impulsive plans, we did nothing with these certificates for almost 6 months (this was in December, a few months prior to my actual departure from the Air Force).
Fast forward 6 months. I am sending emails to different flight schools in the San Antonio area and researching where we could get the best value. To my surprise, NONE of them emailed me back. I did finally get one email from a flight school that said they were too busy to take new students (really? I want to give you thousands of dollars and you say 'no way'?). Finally, I realized that a small and new flight school in Castroville HAD emailed me back, but it had gone to my junk folder. Upon reading this email, I immediately responded and after a short exchange, I had a Discovery Flight set up for the next weekend.
The Discovery Flight is intended to introduce new folks to aviation and make sure that they actually might enjoy the hobby. We had a great time on our flight. The flight was in a Piper Cherokee and we got to fly around Medina Lake and the West San Antonio Area each of us flying for a little bit too. Briana seemed a little scared (expected) but overall seemed to enjoy the experience. We both signed up for flight lessons at Bario Aviation upon landing.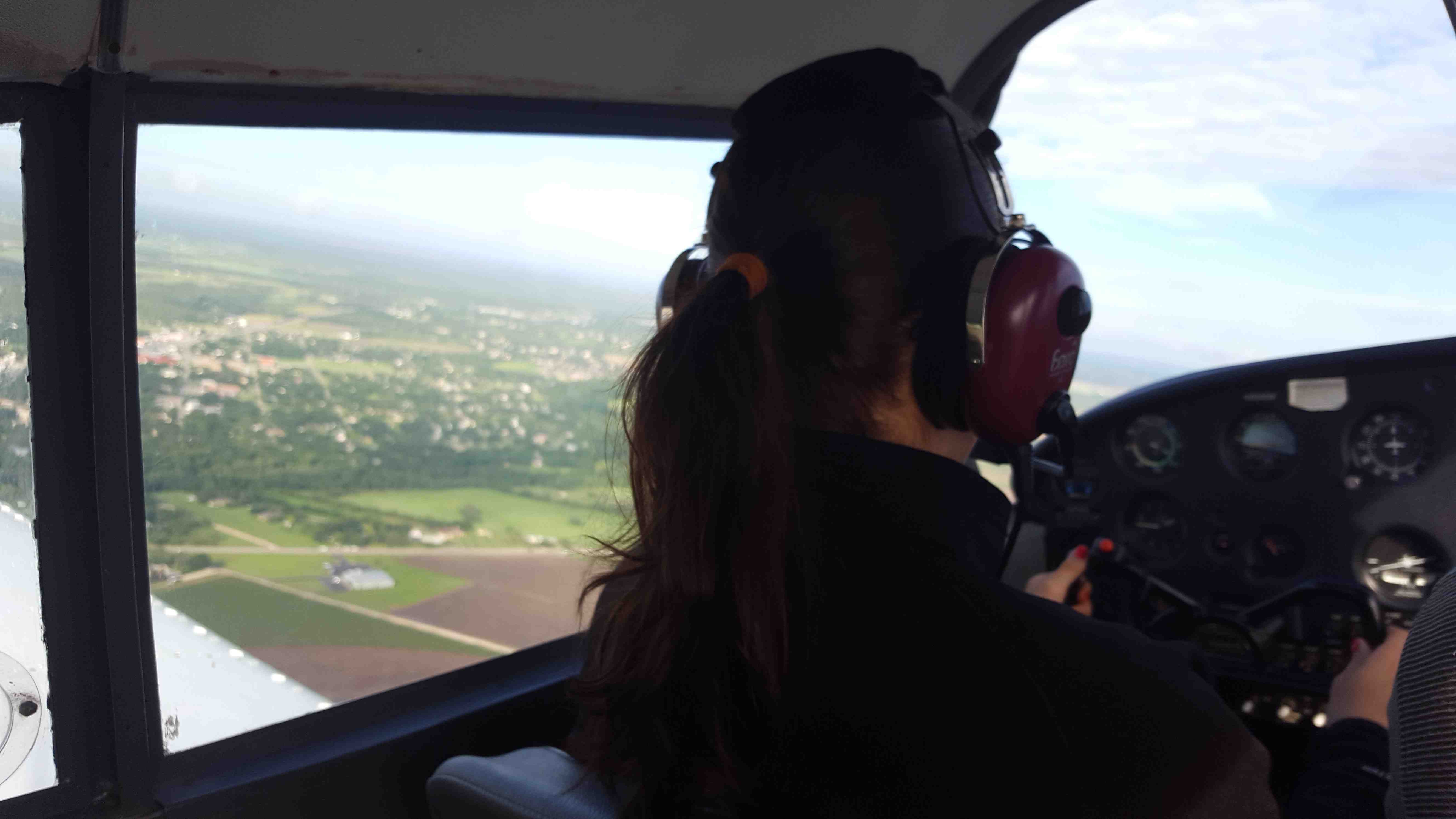 Our first few lessons were fun but interesting. Our instructor Glenn is a crazy guy with probably too much experience as a pilot. His stories about flying were definitely more educational than the book material but also often made our lessons run long. Our initial set up was to do an hour of ground school together and then each fly for an hour. This resulted in some night dusk flying for me in those first few lessons. Turns out Briana was a little more scared than we thought and by our third lesson, she was thoroughly freaked out.
There were two major factors here. 1) Briana, through our ground school, was quickly learning that general aviation is not like the airlines. Not every airplane has radar (as in most do not), some do not have radios, most flights are not under the direction of Air Traffic Control, soloing actually meant flying solo, and sometimes people just do some dumb shit in the air. 2) With #1 in mind, on one of Briana's flights, another aircraft (presumably without a radio) flew too close for comfort to Briana's plane. That was the straw that broke the camels back, and Briana was done with flying. Lame!
My plan to find a hobby for both of us had failed. But I pressed on by myself...again, picking up a hobby that takes way too much time and money. The worst part? Briana had learned just enough in her lessons to be annoying. She had learned enough to know when/if I was not doing something correctly, which has made her the best and safest passenger I could possibly fly with...as long as we fly straight and level.
Getting the Certificate
My instructor recommended that I fly at least once a week during my training in order to maximize my learning and retention of skills and information. I did my best to adhere to this recommendation and for the most partI did fly every week (two times on a couple weeks). I was excited for every lesson and we mixed things up enough for it not to ever get boring.
The training included basic fundamentals, cross country flying, night flying, and a ton a ground school to learn everything that is necessary to fly safely in the National Airspace System. I got to fly all over the South Texas Region and got to see some beautiful scenery.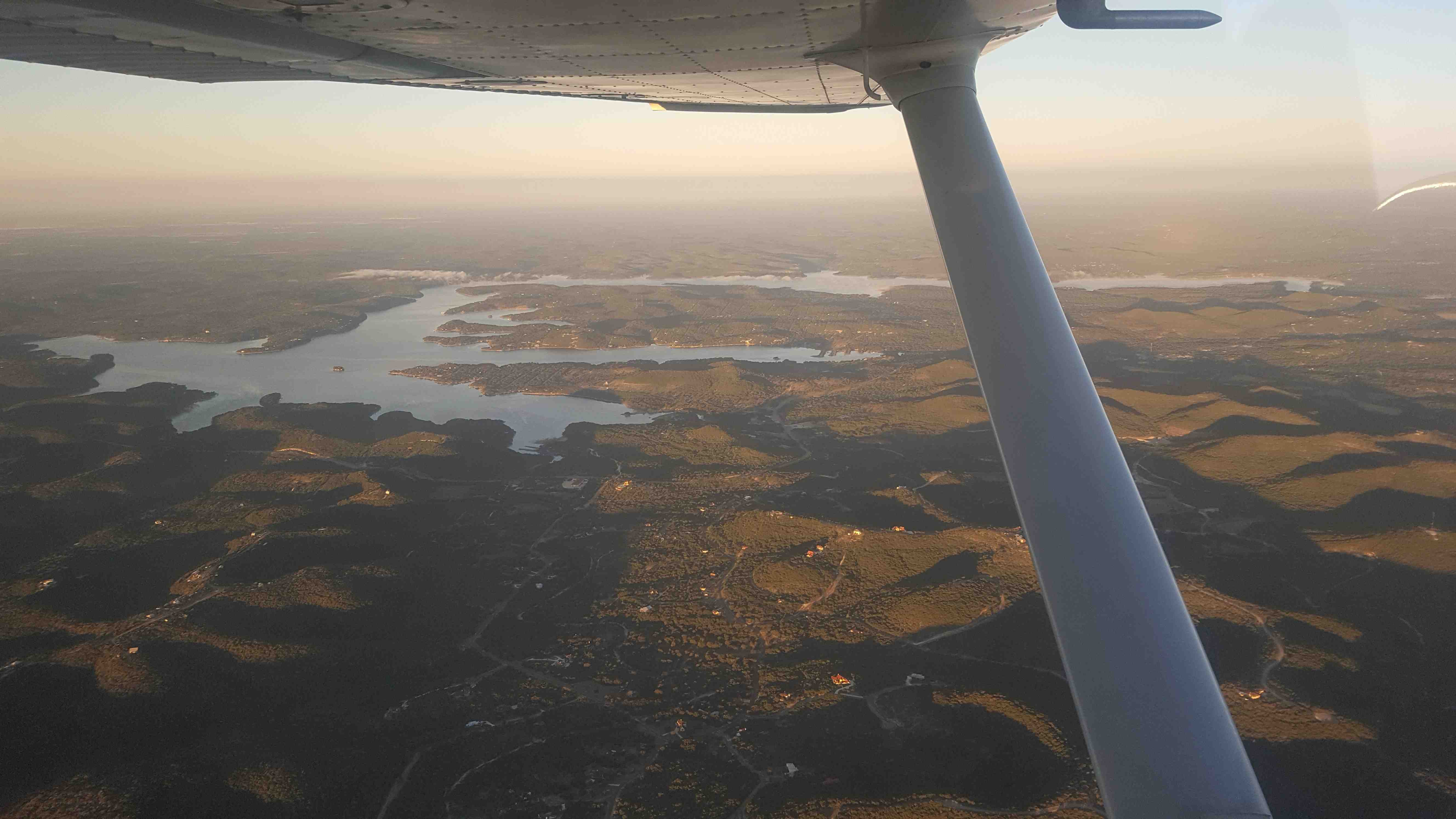 Soloing for the first time was easily the most exciting part of the training. The flight plan on the day I was supposed to solo called for us to do half an hour dual and then I would do half an hour solo in the pattern. So when the 30 minutes were up, we landed, Glenn got out of the plane, and said "Have fun!" I was surprised and how simple the transition from supervised to unsupervised flight was. I taxied down to the runway, said a few encouraging words to myself, and did was I had done for the previous 10 or so flight hours. As I lifted off the ground, I gave myself a big "WOOOHOOO". Here is a picture of the Solo Tradition of getting the back of your shirt cut off after your first successful solo flight. As you can tell, it is hot in an airplane in the Texas summer. RIP Beard :(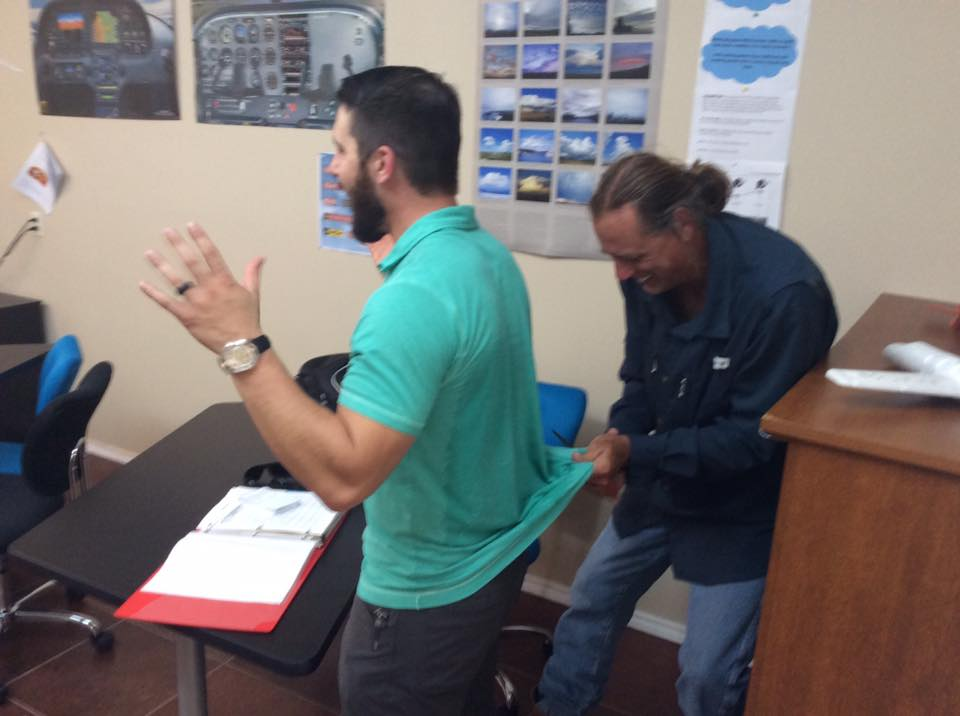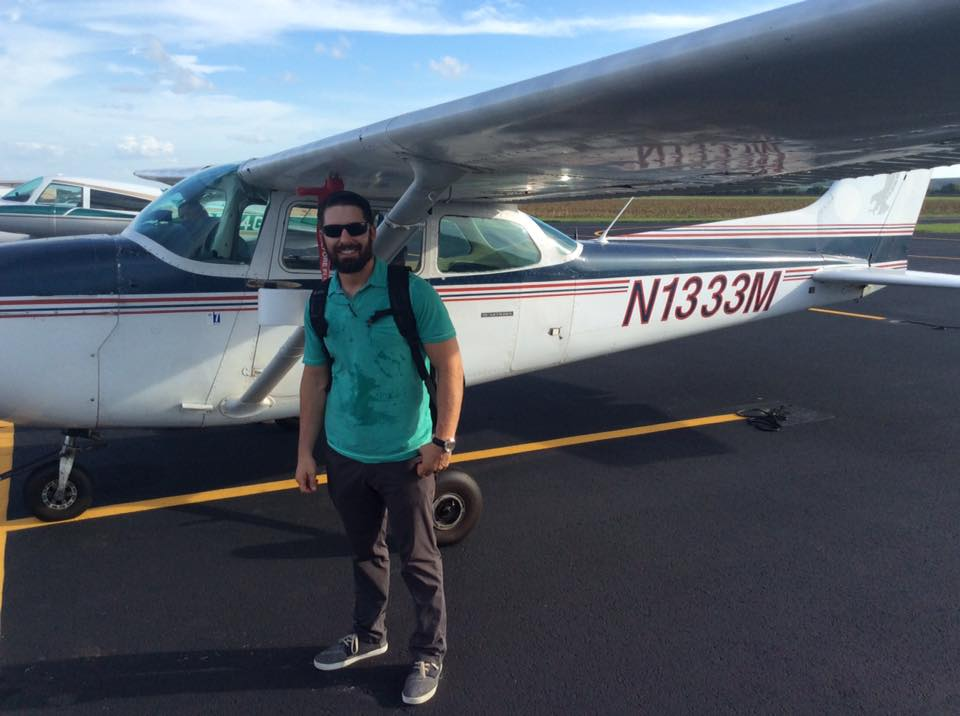 The next few months of training were all in preparation for my FAA checkride. Leading up to the checkride I had some work travel planned and the FAA examiner was going to be out of town for a while. This left us with basically one weekend to do the checkride and I had to get all my requirements done by then.
Of course, weather never wants to cooperate and the week prior to my check ride was cloudy and rainy. I showed up to the airport twice unable to fly due to weather. I was running out of time to get everything done and was nervous I would have to postpone my checkride. Luckily, the clouds cleared just enough for me to fly on the two days prior to my checkride. I went into my checkride with the absolute minimum hours required.
The FAA examiner was a great guy who did everything he could to put me at ease about the checkride. I knew he was not going to go easy on me but I could tell he also wanted to be as fair as possible. Everything about the checkride went well. The checkride all started with the oral portion of the exam and we basically just discussed aviation like two friends. He would ask me a question as if he was someone who was curious about aviation and I would give the best answer I could. Then we got to the practical portion. We did everything that I was taught and expected; slow flight, steep turns, stalls, cross country navigation, different landings, etc. My examiner told me I would know by the time we landed if I had passed or failed and sure enough, nothing in the flight made me feel like I had failed. We landed and my examiner told me I was now a newly minted Private Pilot! His only feedback was that my cross country navigation could have been more accurate (I should have just followed the roads) and that I was a bit high coming in on my landings. Of course the winds that day were favoring the non-dominant runway, which through me off a tiny bit.
A few weeks later (basically 2 months) I received my shiny new FAA certificate in the mail.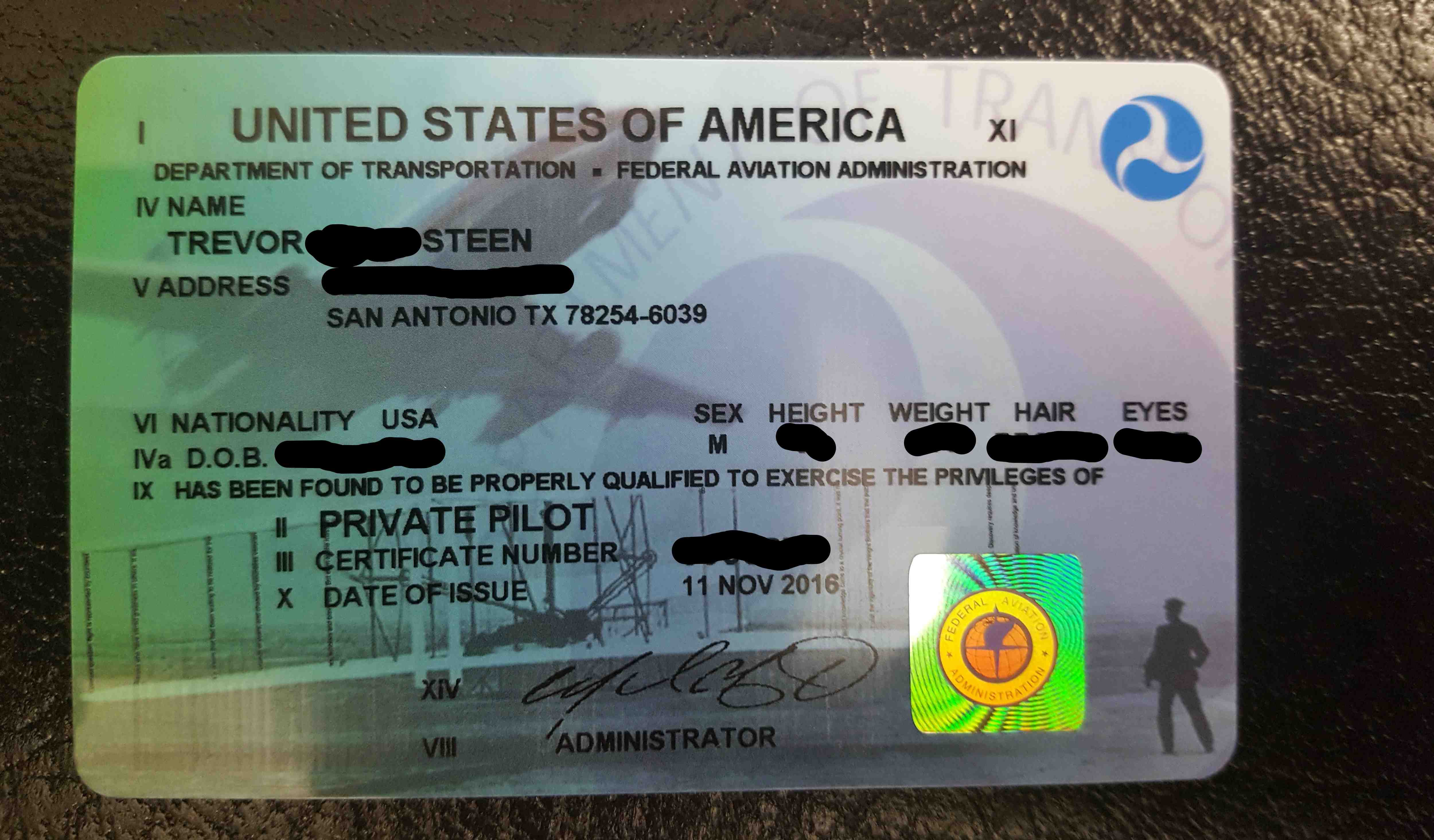 By The Numbers
I sat for my checkride at 39 hours. This was the minimum I could possibly do because my first 6 flight hours were under Part 61 instruction (basically ad hoc instruction, versus a school). Then Bario Aviation got their Part 141 school approved. I was allowed to carry forward 50% of my Part 61 hours, which meant I had to make up the other 3. Adding those three to the Part 141 minimum of 35 hours put me at 38.
At $135/hour for the plane and $55/hour for instruction, I spent a total of $8817.03 on getting my Private Pilot Certificate. Most online articles quote somewhere in the $6-8K range. I think these are outdated numbers. New prospective pilots should expect to spend $8-10K on their new hobby just to start. A Sport Pilot Certificate is a much cheaper alternative depending on your goals.
What Now?
Now that I have my license, I am able to fly with friends, family, and other pilots. Each flight is an adventure and each destination is a new place to explore. Briana and I went on a breakfast date to Fredericksburg, I flew to the location where we got our adoption photos taken, I got to fly with a buddy who is an Air Force pilot, and I made a new pilot friend at the gym who I can fly with to reduce costs.
I plan to make more aviation friends, take longer trips, and get more ratings over the years. I even just found out that there is a guy less than 5 minutes from the house who rents his plane out. Now if I can just convince Briana that a bit of turbulence does not mean the plan is going to fall out of the sky...