Baby's First Flight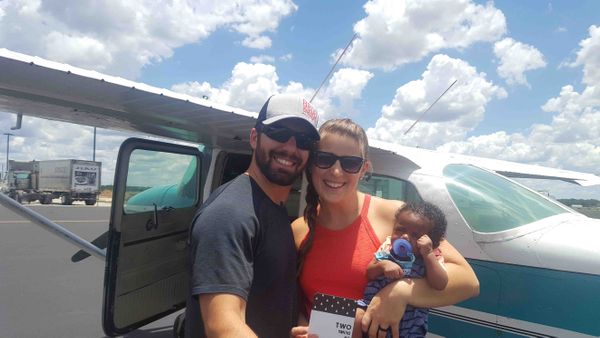 I was finally able to realize one of my life dreams...taking my family on a cross-country flight. When I got my Private Pilot's License, my goal had always been to fly my family somewhere. Mrs. Steen and I had certainly flown before but being able to do so with our newly expanded family was an extra treat.
I planned for weeks to do this researching how best to take a child up in a small aircraft, how to situate the car seat, how to make sure he was comfortable, and how to do all this without it being a total cluster. So what we did was:
I preflighted the plane in the hanger to keep it as cool as possible and only rolled it out when I was really ready to go.
I installed the carseat in the plane before rolling it out into the sun as well. Luckily our carseat can be placed in a vehicle without a base using just a lap belt. If you are an aviator and considering something like this, make sure the carseat you buy has this capability. Ours is a Nuna Pipa.
We made extra bottles as other recommendations online said that the best way to make sure that there is no ear pain from pressure imbalances is to feed the baby during climbs and descents.
We brought along our portable fan that has become standard kit for our outings with the baby.
Mrs. Steen sat in the back with the littleman to make sure he was ok.
Lastly we had purchased a set of Em's 4 Bubs baby ear protection to ensure his little ears were ok. We tested these our during the 4th of July and they worked great.
With all that planning in place, in addition to regular flight planning, we were ready to head to Fredericksburg for lunch at the airport. We had great burgers, pancakes, and a milkshake. This was an amazing way to spend the baby's 2 month day.